Related News
Related News

Rate Setting Process is Customer Driven and Community Focused

EWEB's Board of Commissioners is considering rate changes to help maintain reliable utility services and fund critical investments in Eugene's water and electric infrastructure.

Find Out More

National Preparedness Month: Older adults take control in 1, 2, 3

We know older adults can face greater risks when it comes to the extreme weather events and emergencies we face, especially if they are living alone, are low-income, have a disability, depend on electricity for medical needs, or live in rural areas.

Find Out More

Women in STEM: EWEB Engineer Laura Ohman's second degree brings a lifetime of benefits

EWEB Engineer Laura Ohman shares how getting her second degree was one of the most difficult and rewarding things she's ever accomplished.

Find Out More

Bethel neighbors boost emergency preparedness during Emergency Water Station event

Staff gave out about 300 emergency water containers to enthusiastic community members eager to learn more about the water station.

Find Out More

How does EWEB recover the costs of serving customers

Here's an overview of the three primary ways EWEB recovers the costs of serving customers and generates the funds needed to keep the power on and the water flowing.

Find Out More
Letter from General Manager Frank Lawson to Customers
January 09, 2017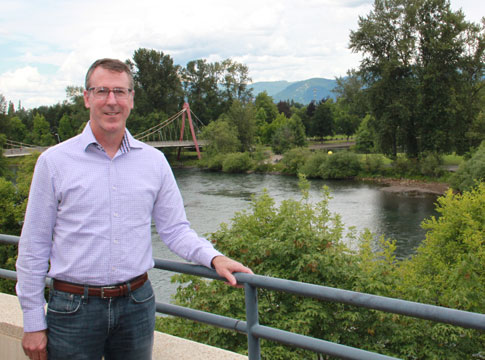 To our customers:

The past several years have been difficult and financially challenging for the Eugene Water & Electric Board. I'm pleased to report that Oregon's largest customer-owned utility has turned a significant corner and is today in a healthy financial position.
For many years, EWEB has sold surplus power to other Northwest utilities and used that revenue to hold down electric prices. But the advent of hydraulic fracturing created an oversupply of natural gas which caused wholesale electric prices to collapse. Without that revenue, the utility was forced to increase the prices we charge customers for electricity.
Rather than passively accepting this new situation, we've launched significant steps in the past few years to become more efficient, lower operating costs, reduce debt and defer or delay certain capital projects. The goal of these measures is to make EWEB more affordable for you, our customers.
In June, EWEB sold its Smith Creek Hydroelectric Project in northern Idaho. Because we have more power than our customers need, coupled with the depressed wholesale market, it made sense to sell Smith Creek. EWEB took the sale proceeds, added some funds from reserves, and paid off $27 million in debt.
In August, we refinanced $115 million in electric bonds to secure a lower interest rate. EWEB was able to accomplish this because the financial rating agencies studied our financial outlook and gave us high marks. Both Moody's and Fitch upgraded the electric utility's rating, and affirmed the water utility's strong rating.
The result of these actions for the electric utility is that EWEB will save about $47 million in principal and interest payments over the next six to 10 years. On the water side, we refinanced $29 million in bonds, which reduced debt payments by $5.6 million.
I continue to work with EWEB managers and staff to find more effective and efficient way to provide the high quality service our customers want and deserve. We've already identified over $2.5 million in cost savings for 2017.
The good news is that there will be no electric or water price increase for our residential customers in 2017.
These financial results and cost-cutting measures are good for customers and the community. We have less debt, excellent credit and we are positioned well to finance important projects such as the Carmen-Smith relicensing work and the second water plant in the future. Being strong financially helps us make good long-term decisions.
Stayed tuned. More good work is in progress.