Related News
Related News

Rate Setting Process is Customer Driven and Community Focused

EWEB's Board of Commissioners is considering rate changes to help maintain reliable utility services and fund critical investments in Eugene's water and electric infrastructure.

Find Out More

National Preparedness Month: Older adults take control in 1, 2, 3

We know older adults can face greater risks when it comes to the extreme weather events and emergencies we face, especially if they are living alone, are low-income, have a disability, depend on electricity for medical needs, or live in rural areas.

Find Out More

Bethel neighbors boost emergency preparedness during Emergency Water Station event

Staff gave out about 300 emergency water containers to enthusiastic community members eager to learn more about the water station.

Find Out More

How does EWEB recover the costs of serving customers

Here's an overview of the three primary ways EWEB recovers the costs of serving customers and generates the funds needed to keep the power on and the water flowing.

Find Out More

Stay cool during extreme heat events

With temperatures forecasted to reach over 100 degrees over the next several days, we've prepared some tips and tricks to help you stay cool.

Find Out More
Let's Talk Turkey. If a Disaster Strikes, is Your Family Ready?
November 21, 2017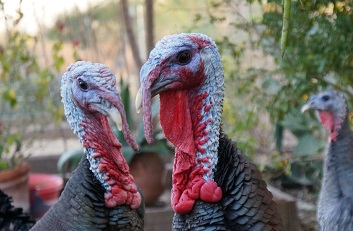 In the spirit of family peace and harmony, many of us avoid talking politics over the dinner table. But here's a topic that can bring everyone together: emergency preparedness.
Thanksgiving is a perfect time to make, or refresh, your emergency plans. As you pass around the turkey and the pumpkin pie, talk with your family about what you would do in an emergency such as an ice storm or other disaster. By coming up with a plan ahead of time, you can help ensure your family's safety and comfort during a winter storm that could knock out the electricity or water for days, or even longer.
Put together a plan by discussing these five questions with your family:
1. How will we receive emergency alerts and warnings?
Many mobile devices will now bring you wireless emergency alerts—real-time information directly from local and federal sources. Check out these alert options:
Lane County ALERT ME! Lane County is able to send you emergency alerts via text message, email, pager, or voice call (in extreme cases), based on your preferences. ALERT ME! works like a "reverse 911" system if you opt in to the service. Sign up today and share the types of alerts and notifications that you would like to receive, as well as your contact information and preferences.
American Red Cross Earthquake Mobile App Receive alerts and notifications when an earthquake occurs, prepare your family and home, find help and let others know you are safe even if the power is out.
FEMA Mobile App Learn what to do before, during, and after emergencies with safety tips, and receive weather alerts from the National Weather Service.​
Update your EWEB account To avoid steps during a power outage, please make sure your current cell phone number(s) are tied to your EWEB account. Call Customer Service at (541) 685-7000 or email EWEB.Answers@eweb.org to update your account.
2. What is our shelter plan?
Depending on your circumstances and the nature of the emergency, it may be best to stay where you are and avoid any uncertainty outside by "sheltering in place." Do you have an emergency stock of food, water, medicines, fuel and other supplies? If you needed to leave home, where would you go? To a family member or friend's home? A hotel? A shelter? Where is the closest public shelter located? Consider your options and discuss with your loved ones in advance.
3. What is our evacuation route?
In a natural disaster, some roads and bridges may be unpassable. It's smart to plan ahead for a few different route options to your shelter location. Keep a map in your car in case your mobile navigation is unavailable.
4. What is our family communication plan?
In an emergency, many people trying to use their mobile phones and land lines at the same time may create network congestion. Have a conversation with your family and agree on a plan for how you will communicate and reconnect. Here are some tips to consider:
Try text messaging. In many cases text messages will go through when your call may not.
Designate someone who lives outside of the area as a central contact, and make certain all family members know who to contact if they become separated.
Agree on a meeting place in case you are unable to connect via phone, text or email.
Keep portable cell phone power banks in your car, backpacks, etc.
Make sure each family member has a printed list of phone numbers in case your cell phones aren't working.
5. What is our plan for loved ones with special needs?
Customers who are dependent on power for special medical equipment should have a plan for power outages. Consider purchasing a back-up generator and make sure your loved ones know how to safely use it. Set up plans with friends or relatives to check on special-needs folks, and transport them if necessary to a site with electricity, such as emergency centers, hotels or neighbors.
Once you have a plan, document it. You can find some handy templates to use as a guide at https://www.ready.gov/make-a-plan.
And don't forget your emergency kit! Check out our website for some handy checklists and other resources.