Related News
Related News

National Preparedness Month: Older adults take control in 1, 2, 3

We know older adults can face greater risks when it comes to the extreme weather events and emergencies we face, especially if they are living alone, are low-income, have a disability, depend on electricity for medical needs, or live in rural areas.

Find Out More

Women in STEM: EWEB Engineer Laura Ohman's second degree brings a lifetime of benefits

EWEB Engineer Laura Ohman shares how getting her second degree was one of the most difficult and rewarding things she's ever accomplished.

Find Out More

Bethel neighbors boost emergency preparedness during Emergency Water Station event

Staff gave out about 300 emergency water containers to enthusiastic community members eager to learn more about the water station.

Find Out More

How does EWEB recover the costs of serving customers

Here's an overview of the three primary ways EWEB recovers the costs of serving customers and generates the funds needed to keep the power on and the water flowing.

Find Out More

Stay cool during extreme heat events

With temperatures forecasted to reach over 100 degrees over the next several days, we've prepared some tips and tricks to help you stay cool.

Find Out More
Kids and Parents: Celebrate National Drinking Water Week by Exploring How Clean Drinking Water Gets to Your Home!
May 08, 2017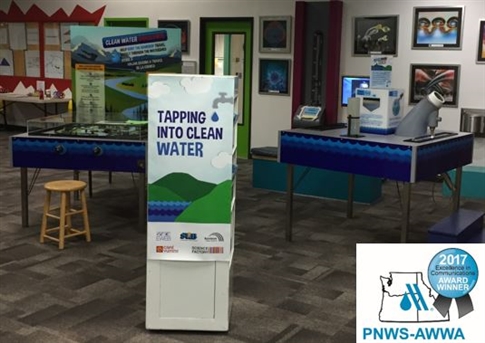 Our award-winning "Tapping into Clean Water" exhibit is now on display at The Science Factory. And during Drinking Water Week, May 8 - 12, 2017, you can check out the WaterTown USA game board at EWEB's downtown location. We also will be selling emergency drinking water storage containers in our lobby, as part of our Drinking Water Week celebration and our Emergency Preparedness & Water Reliability Program.
Designed for children eight years and older, the "Tapping into Clean Water" exhibit helps you and your family look at this amazing natural resource in a whole new way.
"The exhibit provides fun, hands-on activities that help young people embrace the value of water and watershed protection," says Jill Hoyenga, a water planning and communication specialist at EWEB, and one of the exhibit's designers.
"We think it's valuable for kids to be familiar with the basic science of how utilities make water safe to drink, and to learn about the infrastructure that delivers clean water from source to tap."
The exhibit challenges kids to navigate a raindrop through the landscape to the water treatment plant, learning about pollutants along the way. Other stations explore water filtration and treatment processes that are similar to those we use at our Hayden Bridge Water Filtration Plant to deliver safe drinking water from the McKenzie River to your home.
The "Tapping into Clean Water" exhibit won the 2017 "Best in Show" Pacific Northwest Section of the American Water Works Association Excellence in Communications Award. We developed the exhibit in partnership with Rainbow Water District and Springfield Utility Board.
The project was an ambitious two-year undertaking that involved technical experts from the three local utilities, an exhibition contractor and science educators at The Science Factory.
Visit the Tapping into Clean Water Exhibit throughout 2017 at the Science Factory, 2300 Leo Harris Parkway in Eugene. And come by EWEB, 500 E. 4th Ave, during Drinking Water Week, May 8 - 12 to check out the WaterTown USA game board, and purchase your emergency water containers, while supplies last!