Related News
Related News

National Preparedness Month: Older adults take control in 1, 2, 3

We know older adults can face greater risks when it comes to the extreme weather events and emergencies we face, especially if they are living alone, are low-income, have a disability, depend on electricity for medical needs, or live in rural areas.

Find Out More

Women in STEM: EWEB Engineer Laura Ohman's second degree brings a lifetime of benefits

EWEB Engineer Laura Ohman shares how getting her second degree was one of the most difficult and rewarding things she's ever accomplished.

Find Out More

Bethel neighbors boost emergency preparedness during Emergency Water Station event

Staff gave out about 300 emergency water containers to enthusiastic community members eager to learn more about the water station.

Find Out More

How does EWEB recover the costs of serving customers

Here's an overview of the three primary ways EWEB recovers the costs of serving customers and generates the funds needed to keep the power on and the water flowing.

Find Out More

Stay cool during extreme heat events

With temperatures forecasted to reach over 100 degrees over the next several days, we've prepared some tips and tricks to help you stay cool.

Find Out More
Emergency Water Storage Containers on Sale at EWEB During Drinking Water Week
May 08, 2017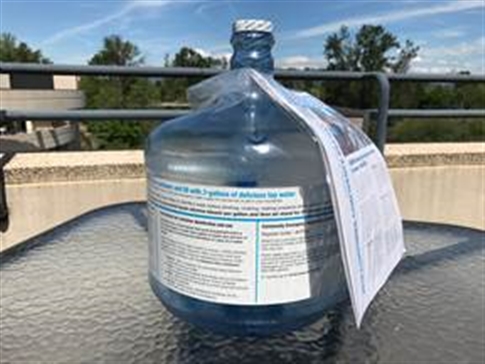 We work hard to make sure that high-quality drinking water flows from your tap anytime day or night. But during a water emergency, you could be without tap water for at least three days because EWEB must secure the water system before distributing emergency water.
If a natural or man-made disaster occurs, you can rest easier knowing you are better prepared with a household emergency kit. Putting together your own kit is simple and easy, and it begins with having on hand a minimum of one gallon of water per person per day for drinking and basic sanitation.
During Drinking Water Week (May 8-12, 2017) EWEB customers can purchase three-gallon, BPA-free water containers in our downtown customer service lobby. The discounted water containers are made available through partnerships with local water utilities, the city of Eugene and other agencies. The $5 charge per container will be applied to your water bill, and one dollar of every purchase will support the local Red Cross emergency preparedness and disaster response.
This offer is available to EWEB residential water or electric customers only and is limited to first-time buyers. Due to limited supplies, we are asking customers who have previously purchased containers not to attempt to purchase at this time. This will allow other EWEB customers to participate. We all win when our entire community is prepared for emergencies!
Purchase your water containers May 8 - 12, between 9 a.m. - 5:30 p.m. at EWEB, 500 E. 4th Ave. Limit four per household, while supplies last! Learn more about planning for a water emergency.