Related News
Related News

Public Power Week Poster Contest 2023

It's that time of year again! October 1-7 is Public Power Week. To celebrate, EWEB is holding our annual poster contest for fifth graders in our service area. Help us pick the winners.

Find Out More

Salmon Return to Finn Rock Reach

Finn Rock Reach and other restoration projects throughout the Middle McKenzie provide conditions to help young fish survive to adulthood.

Find Out More

EWEB programs reflect community values

EWEB is here to serve our customer-owners and provides programs that reflect the values of our community.

Find Out More

EWEB Prepares for the Annual Observance of "Imagine a Day Without Water"

Water infrastructure is essential, invaluable, and in need of continuous investment. Read how EWEB's Staff and Board of Commissioners are working to safeguard Eugene's water future.

Find Out More

National Preparedness Month: Older adults take control in 1, 2, 3

We know older adults can face greater risks when it comes to the extreme weather events and emergencies we face, especially if they are living alone, are low-income, have a disability, depend on electricity for medical needs, or live in rural areas.

Find Out More
EWEB will close College Hill Reservoir site for Fourth of July
June 28, 2023 • Aaron Orlowski, EWEB Communications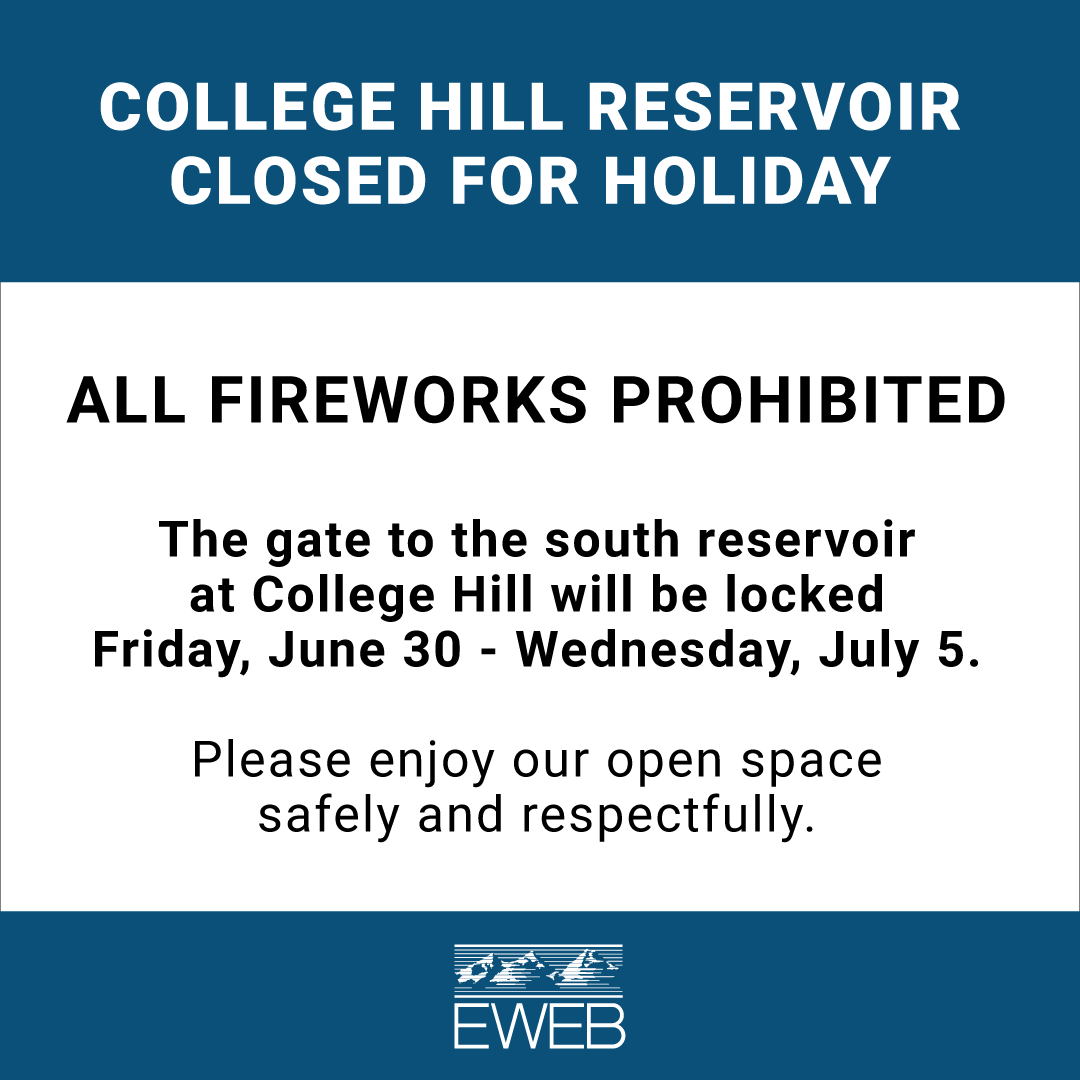 EWEB will continue the annual closure of its College Hill Reservoir over the Fourth of July holiday.
For the past several years, EWEB has restricted access to the reservoir surface around the Fourth of July to ensure people do not set off fireworks which can damage the roof and potentially impact drinking water quality.
Setting off fireworks is prohibited across the entire City of Eugene to prevent fires. Fireworks are also prohibited in Lane County open space, parks and recreation areas and in federally or state-managed areas like Bureau of Land Management, National Park Service and Oregon State Parks.
At College Hill, only the surface of the south water tank will be closed over the holiday. EWEB will lock the gates to the surface Friday, June 30. The gates will re-open Wednesday, July 5.
EWEB invites the public to enjoy the ungated public space respectfully.
"College Hill's primary function, and EWEB's top priority, is storing and protecting drinking water," said EWEB Water Operations Manager Mike Masters. "Closing the College Hill reservoir over the Fourth of July holiday has been an effective way to protect the surface of the tank from further damage and water contamination risks."
A volunteer neighborhood reservoir watch has been in place for years to help reduce risks to water quality from people using the water storage facility for recreation, and EWEB has invested close to $1 million over the past decade on temporary fixes to the 80-year-old facility. Despite improvements, the structure is still susceptible to contamination and has reached the end of its useful life.
Approximately 80,000 people in Eugene rely on the 15 million-gallon College Hill Reservoir for their drinking water. EWEB will dismantle the leaky and antiquated reservoir and replace it in the coming years with new, modern drinking water storage tanks built to withstand major earthquakes. Construction could begin as early as 2024.