Related News
Related News

National Preparedness Month: Older adults take control in 1, 2, 3

We know older adults can face greater risks when it comes to the extreme weather events and emergencies we face, especially if they are living alone, are low-income, have a disability, depend on electricity for medical needs, or live in rural areas.

Find Out More

Women in STEM: EWEB Engineer Laura Ohman's second degree brings a lifetime of benefits

EWEB Engineer Laura Ohman shares how getting her second degree was one of the most difficult and rewarding things she's ever accomplished.

Find Out More

Planning for a Future of Reliable, Affordable, Environmentally Responsible Energy

The challenges revealed by Eugene Water & Electric Board's integrated resource planning process mirror those facing the Northwest.

Find Out More

Bethel neighbors boost emergency preparedness during Emergency Water Station event

Staff gave out about 300 emergency water containers to enthusiastic community members eager to learn more about the water station.

Find Out More

EWEB's heat driven call to conserve energy yields major savings

EWEB is likely to implement similar, formalized "demand response" programs in the future.

Find Out More
EWEB tree crews take care to avoid disturbing wildlife
April 13, 2023 • Rachael McDonald, EWEB Communications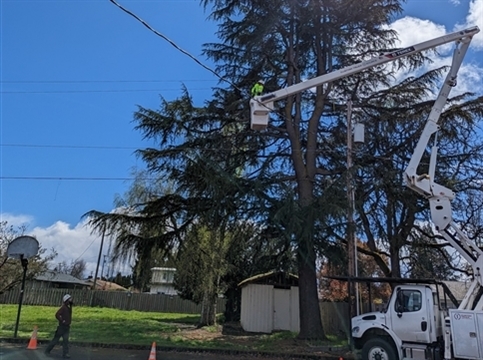 It's spring-- the time of year when birds are nesting in our trees. EWEB crews take special care to avoid disrupting birds when they're trimming trees. But tree trimming is a necessary part of delivering safe and reliable power. We went out with a crew to find out how it's done.
Bailey Gleason is a utility forester with EWEB's Vegetation Management team. Near a church in Eugene's Bethel neighborhood, crews with West Lane Tree Service remove small branches that are close to an EWEB power pole.
"So right now we're pruning a deodar Cedar. They're just looking to do a little light pruning on it," Gleason said. "It's got about 4 to 5 feet of clearance right now from the primary conductors and we're looking to trim that back to an 8 to 10 feet range and keep it held over until we can come back and do our inspections again in 2 1/2 years."
Gleason said pruning helps maintain reliable power to EWEB customers across more than 700-line miles . We proactively prune trees, branches and shrubs to make sure they don't come in contact with power lines during high wind, snow or ice events. Proactive pruning reduces the risk of power outages and fire ignition from branches falling on lines.
"Usually, we're looking for about 8 to 10, 10 to 12 feet of clearance around the primary conductors, so the highest lines up on the pole and the reason we're doing that is just to keep safe and reliable power to customers," said Gleason. "Anytime those branches come into contact with the lines it can create an outage and then we'll have to send crews out after hours."
Gleason said they keep the health of the trees and wildlife in mind when scheduling tree-trimming.
"We have a crew that comes up and if they spot a nest in the tree, we always have them hold off on that work until after nesting season just so we're not disrupting them or the homeowners as well," said Gleason. "We don't want to make anybody unhappy."
Removing branches is a routine part of vegetation management for EWEB. The Vegetation Department has a map of the all the lines and a schedule for trimming and maintaining proper clearance of trees around power poles and lines. But there are times when it's necessary to take out a tree.
"We're always looking out for danger trees or hazard trees that need to be removed and this includes dead trees, trees with rot, excessive lean, inclusions, or any boring wood insects that could cause the tree to decay or decline and potentially fall on the lines and take out the power," Gleason said. "That's something we're looking for year-round, 24-7."
When tree trimming or removal is planned in your neighborhood, EWEB will give you the head's up. If you're concerned about a tree trimming project, or think trees need attention, you can contact EWEB.
"If you have any concerns about trees on your property that have EWEB lines around them. Don't hesitate to contact us. We'll come out and take a look and do an assessment of the property and the lines and see what we can't do to help you." said Gleason.