Related News
Related News

EWEB programs reflect community values

EWEB is here to serve our customer-owners and provides programs that reflect the values of our community.

Find Out More

Where is EWEB in planning our future electricity supply?

In August, we reached a milestone: EWEB's five-member elected Board of Commissioners approved an action plan to guide our energy supply choices for the next 2-3 years. How did we get here?

Find Out More

Planning for a Future of Reliable, Affordable, Environmentally Responsible Energy

The challenges revealed by Eugene Water & Electric Board's integrated resource planning process mirror those facing the Northwest.

Find Out More

EWEB's heat driven call to conserve energy yields major savings

EWEB is likely to implement similar, formalized "demand response" programs in the future.

Find Out More

Planning for a Reliable, Affordable, Green Energy Future

EWEB General Manager Frank Lawson publishes an op-ed in the Eugene Weekly about EWEB's IRP.

Find Out More
EWEB Starts Clean-up of Old Gas Plant Waste
August 30, 2019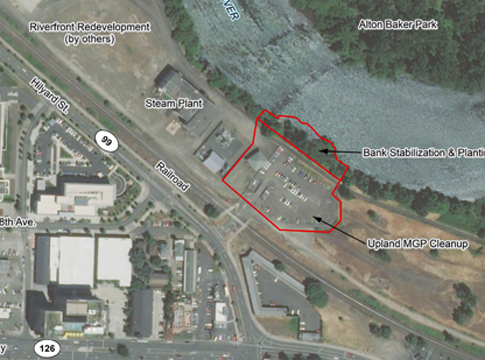 Starting in mid-September, an EWEB contractor will begin an environmental clean-up project at the site of a former manufactured gas plant (MGP) located at 701 E. Eighth Ave., near the old steam plant building.
The contractor will excavate contaminated soil, dispose of it at the hazardous waste landfill in Arlington, Ore., then backfill the excavated areas before placing an asphalt cap on top.
Although MGP waste at the anticipated concentrations is not harmful, it does emit an unpleasant odor. These MGP odors are more of a nuisance than a health concern.
EWEB will take active site management steps to limit air releases to safe levels. Ongoing air monitoring will take place to verify safe air conditions at the work site and in neighboring areas.
In addition to the remediation project, a riverbank restoration contractor will plant native vegetation along a section of the Willamette River and place river rock to stabilize areas where erosion is a concern. The clean-up is funded through a partnership between EWEB, Cascade Natural Gas and PacifiCorp.
During the clean-up project, the South Bank Path between the DeFazio and Frohnmayer bridges will be closed, as will access to the path from East Eighth Avenue and Hilyard Street. Both bridges will remain open during the project. People should detour through Alton Baker Park during the closure. Work is expected to be completed by the end of October.
Site history
Between 1907 and 1950, this site was utilized for the manufacture of coal gas, which was used by the residents and businesses of Eugene for light and heat. After 1950, the site was converted for the storage of propane-air gas. By the time propane-air gas operations ceased, all remaining aboveground structures except the main brick building had been removed. EWEB purchased the property in 1976, by which time it was largely paved and fenced with a locked gate. Byproducts of the manufactured gas process remain buried at the site.
The Oregon Department of Environmental Quality has identified three distinct areas contaminated with MGP waste. This project will remove the more mobile MGP wastes to reduce the risk of release of contamination to the Willamette River. To view a DEQ fact sheet on this project, click here.
After the clean-up is complete, the City of Eugene plans to construct an intersection on top of the asphalt cap to provide access to the Downtown Riverfront development.
About the clean-up
The MGP waste is known to contain naphthalene and benzene. Naphthalene has a distinct odor, somewhat like mothballs or driveway sealer. You can smell it at very low concentrations that are not harmful to health. Benzene is a common petrochemical and is known to be harmful at concentrations that are much higher than what is expected to occur during this remediation project.
EWEB is providing multiple layers of air monitoring for benzene, including handheld and static monitors in the project area. We will also patrol nearby neighborhoods to evaluate non-harmful nuisance odors. This multifaceted approach will allow us to assess air conditions on a real-time basis to limit impacts on nearby residents and businesses, and to ensure that vapor management strategies are effectively employed.
To ensure safety and reduce the amount of vapors that can be released to the air, EWEB is requiring the contractor to limit the size of open excavation, minimize contaminated soil stockpiling, cover contaminated soil with impervious plastic covers, and deploy odor-controlling foam over exposed soils. If needed, we may also direct the contractor to perform MGP waste removal during the cooler morning hours and perform work with less potential to impact air quality during the heat of the day.
If at any time the local air quality is not satisfactory, MGP excavation work will shut down while we assess weather forecasts and alternate odor management strategies. Please contact EWEB if your home or business is impacted by strong odors so we can implement alternative management strategies. While no process is perfect, we will use methods that are well-established by the remediation industry to limit odor impacts on our neighbors.
More information:
Answers to additional questions
Contact information:
Jared Rubin, EWEB Environmental Specialist, 541-685-7609
Joe Harwood, EWEB Communications, 541-685-7471
Don Hanson, DEQ Project Manager, 541-687-7349