Related News
Related News

EWEB 2023 year in review

In 2023, EWEB invested in our community with grants, rebates and an array of other programs and measures aimed at fulfilling our core values of safety, reliability, affordability, environmental responsibility and community/culture.

Find Out More

EWEB Recognized with Excellence in Communications Awards from American Public Power Association

We are proud to have been recognized with two Excellence in Public Power Communications Awards for 2023 from the American Public Power Association (APPA).

Find Out More

Let's talk turkey. If a disaster strikes, is your family ready?

Many of us avoid discussing politics over the dinner table in the spirit of family peace and harmony. But here's a topic that can bring everyone together: emergency preparedness.

Find Out More

EWEB To Hold First of Two Public Hearings on Proposed 2024 Budget and Prices

At the Nov. 7 Board of Commissioners meeting, EWEB staff will present a proposed budget that includes rate increases necessary to support utility operations and make needed infrastructure investments.

Find Out More

EWEB now offering a Smart Thermostat rebate program

EWEB is excited to announce a new residential rebate program to provide electric customers with free or greatly discounted Smart Thermostats to customers whose primary source of heating is from an electric forced-air furnace or heat pump.

Find Out More
EWEB Puts More Water Into River to Help Fish
May 14, 2021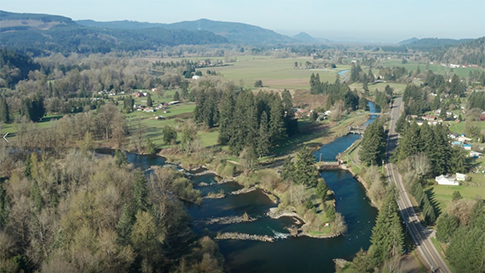 EWEB Generation staff on May 13 started diverting less water into the Walterville Power Canal to increase McKenzie River flows in the bypassed reach of the river to improve fish migration and water quality.
Under our federal operating license, the Walterville hydroelectric project is allowed to divert up to 2,577 cubic feet per second (cfs) into the canal during normal operations. The license requires us to maintain minimum instream flows of 1,000 cfs in the bypassed reach of the McKenzie at all times. We typically try to keep instream flows at around 1,200 cfs.
However, in 2018 we made an operational decision to voluntarily adjust the flow going into the Walterville Canal during low flow years in order to maintain 10% more flow in the river than the canal from June through October. Maintaining more flow in the river than in the canal improves fish migration and enhances water quality and recreational use during the summer months.
With the unseasonably warm and dry conditions this spring, and with adult salmon already present in the McKenzie River, staff made the decision to keep more water in the river immediately. We originally planned to begin diverting less water to the canal on May 20 due to the low flows.
"We decided to put more water in the bypassed reach of the McKenzie River at this time because we are hearing anecdotally that adult Spring Chinook are showing up a bit earlier than usual," said EWEB Generation Manager Lisa Krentz. "This will have a minor financial impact, but with the low river conditions we're experiencing, we felt it was the right decision."
On the morning of May 13, the power canal was running at about 1,700 cfs, and the bypassed reach of the McKenzie was flowing at about 1,200 cfs. By the morning of May 14, the bypass reach was running at approximately 1,700 cfs and the canal at 1,200 cfs.
This is the third year EWEB has voluntarily decreased diversion into the canal to maintain an additional 10% more flow in the river. This "low-flow" operation will continue through October.
The Walterville powerhouse, located off Camp Creek Road northeast of Springfield, can generate about 8 megawatts of electricity, enough to power approximately 4,000 homes or roughly equal to about 3% of Eugene's average daily consumption of electricity.