Related News
Related News

EWEB 2023 year in review

In 2023, EWEB invested in our community with grants, rebates and an array of other programs and measures aimed at fulfilling our core values of safety, reliability, affordability, environmental responsibility and community/culture.

Find Out More

EWEB Recognized with Excellence in Communications Awards from American Public Power Association

We are proud to have been recognized with two Excellence in Public Power Communications Awards for 2023 from the American Public Power Association (APPA).

Find Out More

Let's talk turkey. If a disaster strikes, is your family ready?

Many of us avoid discussing politics over the dinner table in the spirit of family peace and harmony. But here's a topic that can bring everyone together: emergency preparedness.

Find Out More

EWEB To Hold First of Two Public Hearings on Proposed 2024 Budget and Prices

At the Nov. 7 Board of Commissioners meeting, EWEB staff will present a proposed budget that includes rate increases necessary to support utility operations and make needed infrastructure investments.

Find Out More

EWEB now offering a Smart Thermostat rebate program

EWEB is excited to announce a new residential rebate program to provide electric customers with free or greatly discounted Smart Thermostats to customers whose primary source of heating is from an electric forced-air furnace or heat pump.

Find Out More
EWEB Education Programs Invest in Eugene's Future
May 22, 2023 • Jen Connors, EWEB Communications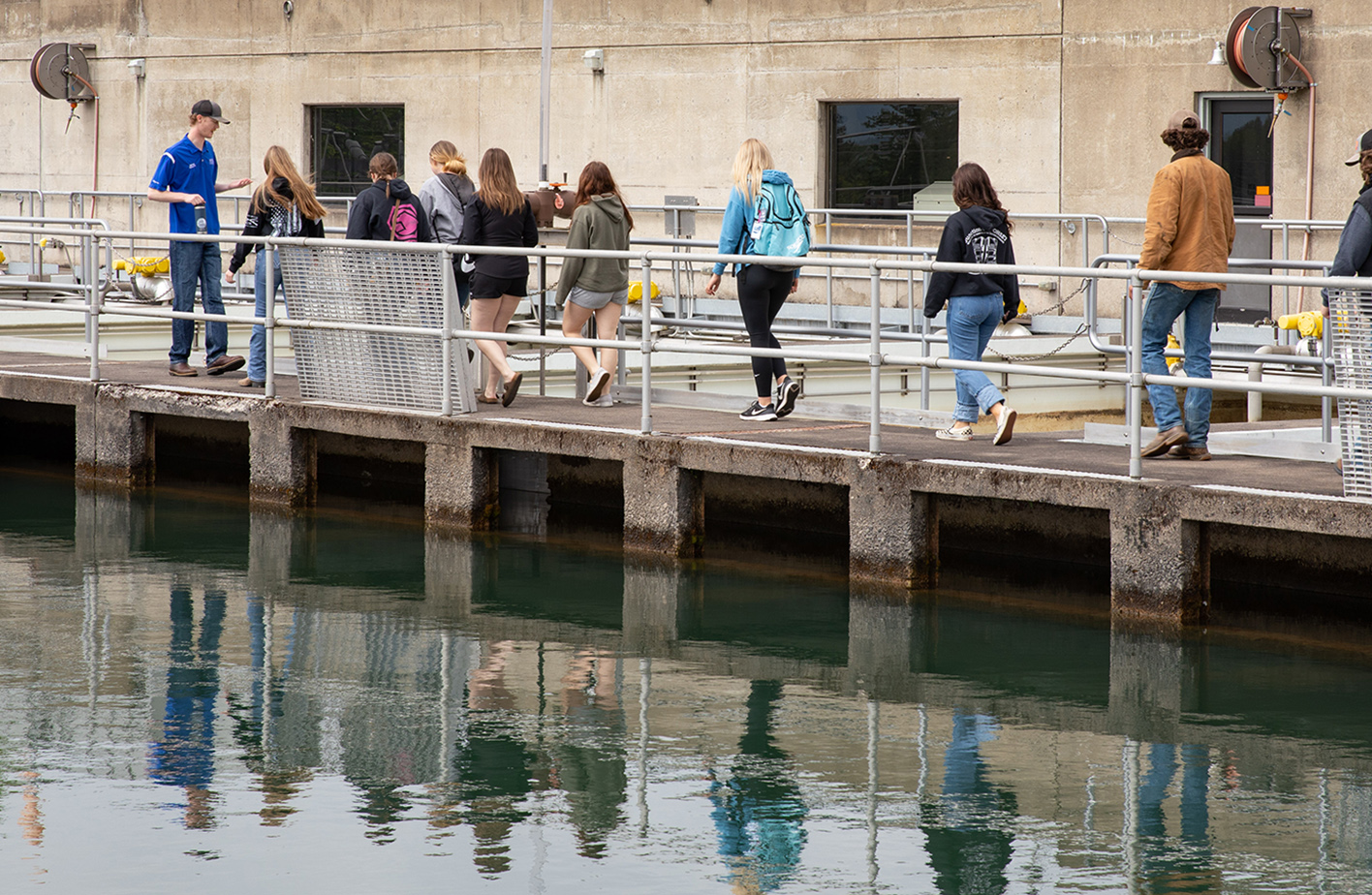 As students, parents, and teachers begin winding down another school year, we want to highlight some of the many ways EWEB customers support local schools and help inspire kids to explore the wonders of watershed health and clean energy resources.
Energy and water use is an important issue now and for future generations. Each year, EWEB dedicates a portion of customer rates to local schools. Grants totaling around $500,000 per school year support energy and environmental studies for kindergarten through high school students in EWEB service territory, which includes Eugene 4J, Bethel, McKenzie, and Springfield school districts. Students learn about the lifecycle and habitat of Chinook Salmon, how hydroelectric and wind energy work, and where their drinking water comes from. They also practice hands-on engineering and technology skills and learn how to engage in climate change solutions large and small.
Tana Shepard is the EWEB grant coordinator for Eugene 4J. She recently spoke to EWEB commissioners at a public board meeting, thanking EWEB and our customers for supporting these valuable programs.
"Without your support, we would not be able to offer as many opportunities for our 4J students," Shepard told the board. "It's been a pretty busy and successful year."
She offered some statistics on how EWEB grants have supported the district, including allowing more than 3,000 students to participate in salmon education experiences and providing curriculum and other resources for more than 1,000 students to participate in the upcoming EWEB EV Challenge. Formerly known as the EWEB Solar Challenge, this event inspires middle school students to use science, technology, engineering, art, and math to design, build and race mini zero-emission cars.
Programs like these have multiple benefits. In addition to supplementing school budgets and introducing kids to energy and water issues, the programs help strengthen local workforce development.
"It takes skilled, dedicated individuals to power our community and ensure we continue to have clean drinking water," said EWEB Human Resources Partner Lainie Knutsen. "These programs are helping prepare kids for critical and rewarding careers in science and public service."
In recent years, EWEB-funded programs have expanded to include helping kids prepare for emergencies and education about climate change, with a lens on hope and solution through mitigation, preparedness, and resilience.
"I have a lot of different grade levels reaching out for climate education," said Tana Shepard. In response a call for action by 4J students and the 4J school board's Climate Resolution, a 4J Climate Justice Team was formed in 2019 to support teachers and students working together to improve climate education.
Another new program implemented this year is focused on waste collection at 4J schools.
"This was a really cool year because we rolled out the Love Food Not Waste program," Tana Shepard told EWEB commissioners. "I'm especially focusing on water and land use and what that means for food waste and we have implemented a K-12 food waste collection in all of our schools across the district."
Learn more about your rates support education programs in our community and find a curated collection of learn-at-home resources.