Related News
Related News

National Preparedness Month: Older adults take control in 1, 2, 3

We know older adults can face greater risks when it comes to the extreme weather events and emergencies we face, especially if they are living alone, are low-income, have a disability, depend on electricity for medical needs, or live in rural areas.

Find Out More

Women in STEM: EWEB Engineer Laura Ohman's second degree brings a lifetime of benefits

EWEB Engineer Laura Ohman shares how getting her second degree was one of the most difficult and rewarding things she's ever accomplished.

Find Out More

Bethel neighbors boost emergency preparedness during Emergency Water Station event

Staff gave out about 300 emergency water containers to enthusiastic community members eager to learn more about the water station.

Find Out More

Stay cool during extreme heat events

With temperatures forecasted to reach over 100 degrees over the next several days, we've prepared some tips and tricks to help you stay cool.

Find Out More

Women in STEM: Meet our servant leader and maker of tough decisions

Karen Kelley, Chief Operations Officer at EWEB, describes herself as a "servant leader," offering support and mentoring to four division managers at EWEB.

Find Out More
EWEB Crews Help Restore Power After Ice Storm
March 16, 2021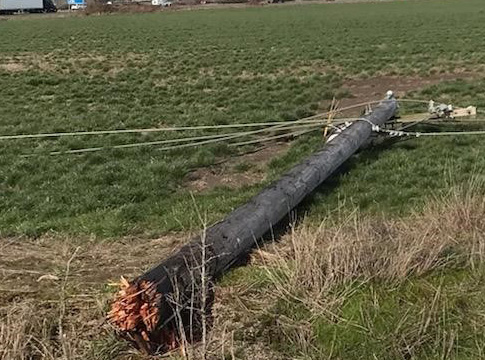 After an icy winter storm struck Northwest Oregon in mid-February, bringing down trees and power lines, the state's largest investor-owned electric company issued a call for help.

At the peak of the catastrophe, more than 250,000 Portland General Electric customers were without power amid freezing temperatures. PGE estimated that at least 4,000 power lines were brought down by falling trees, limbs and ice. Several transmission lines were also damaged.
The PGE request for mutual aid landed on the desk of EWEB Operations Line Supervisor John Latourette. After double-checking the weather forecast to make sure snow and ice wasn't supposed to hit the Eugene area, John then determined there were no critical electric projects that couldn't be pushed out for a week or two.
Another consideration in deciding whether to send crews to help another utility restore power is the Coivd-19 pandemic. A utility in California requested mutual aid in January, but EWEB had to decline because the number of Covid-19 cases in the area was going up and the infection rate was well above that in Oregon.
"What would happen if one, two or even three crews came down with Covid-19?" John asked.
He determined the Portland to Salem corridor was at about the same risk as Lane County.
"After checking the weather and the number of scheduled urgent projects, we decided could send three crews and a general foreman to help restore service to PGE customers," John said. Each crew is comprised of four line technicians.
The 13 EWEB staff primarily worked in the Salem and Silverton areas, which were hit hardest by freezing rain that brought about 1 inch of ice to the central Willamette Valley. The crews spent 10 days installing new poles, crossarms and power cable.
"They would come up to some locations where the line was literally pulled down by ice and trees," John said. "Other locations there was one pole that fell, and it took several other poles like dominos falling."
The Eugene area encountered a similar ice storm in December 2016, bringing down trees and power lines. At peak, about 10,000 EWEB customers were without power. After EWEB issued a call for mutual aid, private and public utilities responded to get the lights back on.
Mutual aid contracts require the requesting utility to cover all labor, fuel and materials costs incurred by outside crews.