Related News
Related News

EWEB 2023 year in review

In 2023, EWEB invested in our community with grants, rebates and an array of other programs and measures aimed at fulfilling our core values of safety, reliability, affordability, environmental responsibility and community/culture.

Find Out More

EWEB Recognized with Excellence in Communications Awards from American Public Power Association

We are proud to have been recognized with two Excellence in Public Power Communications Awards for 2023 from the American Public Power Association (APPA).

Find Out More

Let's talk turkey. If a disaster strikes, is your family ready?

Many of us avoid discussing politics over the dinner table in the spirit of family peace and harmony. But here's a topic that can bring everyone together: emergency preparedness.

Find Out More

EWEB To Hold First of Two Public Hearings on Proposed 2024 Budget and Prices

At the Nov. 7 Board of Commissioners meeting, EWEB staff will present a proposed budget that includes rate increases necessary to support utility operations and make needed infrastructure investments.

Find Out More

Public Power Week Poster Contest Winners 2023

The results are in! View the winning posters from EWEB's 2023 Public Power Week Poster Contest.

Find Out More
EWEB crews assist electric restoration in N. California
December 04, 2018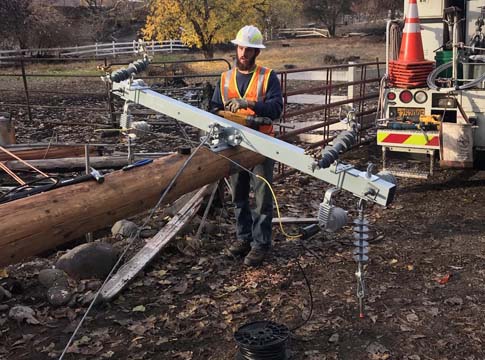 Three EWEB line crews on Tuesday marked their 15th straight day working to restore electric service to the thousands of people victimized by the Camp Fire that struck northern California on Nov. 8.

The crews are part of a nationwide mutual aid initiative to rebuild the electric system in and around Paradise and restore service to those affected. At one point, an estimated 20,000 residents were living without power. Many of those lost their homes to the fast-moving fire.
The fire resulted in 85 confirmed deaths and the destruction of almost 14,000 residences.
"It was an amazingly devastating event," said Scott Mehlbrech, a Line Crew Lead II who visited the crews last week. "I've never seen anything like it and it's hard to find the words to describe the destruction."
The 13 EWEB line technicians are working 16-hour shifts and are based at a makeshift camp in the Chico area that serves as a temporary home for line crews from as far away as Florida and Hawaii.
Electric utilities in the United States have mutual assistance agreements to help one another rebuild power lines and poles after disasters in order to connect homes and businesses to the electric grid as soon as possible.
In 2016, EWEB called for mutual assistance to help restore service following an ice storm that heavily damaged Eugene's electric system.