Related News
Related News

National Preparedness Month: Older adults take control in 1, 2, 3

We know older adults can face greater risks when it comes to the extreme weather events and emergencies we face, especially if they are living alone, are low-income, have a disability, depend on electricity for medical needs, or live in rural areas.

Find Out More

Women in STEM: EWEB Engineer Laura Ohman's second degree brings a lifetime of benefits

EWEB Engineer Laura Ohman shares how getting her second degree was one of the most difficult and rewarding things she's ever accomplished.

Find Out More

Bethel neighbors boost emergency preparedness during Emergency Water Station event

Staff gave out about 300 emergency water containers to enthusiastic community members eager to learn more about the water station.

Find Out More

Stay cool during extreme heat events

With temperatures forecasted to reach over 100 degrees over the next several days, we've prepared some tips and tricks to help you stay cool.

Find Out More

Women in STEM: Meet our servant leader and maker of tough decisions

Karen Kelley, Chief Operations Officer at EWEB, describes herself as a "servant leader," offering support and mentoring to four division managers at EWEB.

Find Out More
EWEB Commissioners Present Awards for Poster Contest
October 18, 2019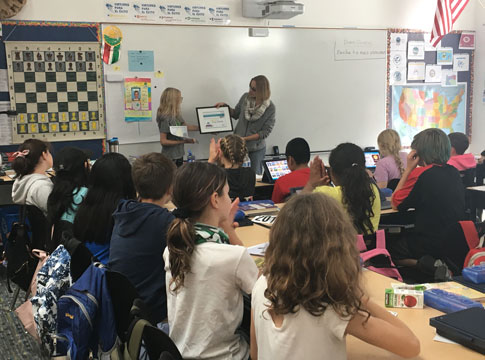 For the fifth year running, EWEB held a poster contest for area fifth graders in honor of Public Power Week. EWEB Commissioners this week stopped by classrooms around Eugene to present winning artists with awards.
The theme of the 2019 contest was, "Brought to you by electricity..." asking students to consider how they use electricity in their daily lives. Nearly 300 students from area schools submitted entries that varied from focusing on technology that many people now take for granted to considering what life would be like without readily available electricity.
EWEB staff selected six winning posters (there was a tie for third place). Commissioners stopped by the students' classrooms to deliver an award and briefly talk about the role electricity plays in the community.
"It is very rewarding to see the students light up when presented with the award and watching them explain to their classmates what they did for their poster. It's just a great interaction," says EWEB Commissioner John Brown.
Who owns your utility?
There are three types of electric utilities: public power, rural electric cooperatives and investor-owned utilities.
EWEB is a public utility, meaning we are community-owned and do not operate to earn a profit or to serve the investment needs of stockholders. Instead, EWEB is chartered by the City of Eugene to serve the interests of its citizens. We are owned by the people of Eugene and it's our job to provide reliable, affordable water and electricity for our customers.
During Public Power Week, local students learn about and celebrate the advantages that locally-owned and operated electric utilities provide.
2019 Public Power Week Poster Contest Winners
First Place, Morgan from O'Hara Catholic School

Second Place, Lillian from Awbrey Park Elementary

Third Place (tie), Alice from O'Hara Catholic School

Third Place (tie), John from O'Hara Catholic School

Fourth Place, Josie from Gilham Elementary

Fifth Place, Paige from El Camino del Rio Elementary

As a public utility, EWEB has a role to play in shaping the future by engaging with the next generation on the value of public power and the critical role it plays in the vitality of the community.
Learn more about how EWEB supports local education programs.