Related News
Related News

EWEB Recognized with Excellence in Communications Awards from American Public Power Association

We are proud to have been recognized with two Excellence in Public Power Communications Awards for 2023 from the American Public Power Association (APPA).

Find Out More

Let's talk turkey. If a disaster strikes, is your family ready?

Many of us avoid discussing politics over the dinner table in the spirit of family peace and harmony. But here's a topic that can bring everyone together: emergency preparedness.

Find Out More

EWEB To Hold First of Two Public Hearings on Proposed 2024 Budget and Prices

At the Nov. 7 Board of Commissioners meeting, EWEB staff will present a proposed budget that includes rate increases necessary to support utility operations and make needed infrastructure investments.

Find Out More

EWEB now offering a Smart Thermostat rebate program

EWEB is excited to announce a new residential rebate program to provide electric customers with free or greatly discounted Smart Thermostats to customers whose primary source of heating is from an electric forced-air furnace or heat pump.

Find Out More

Your EWEB Rates at Work: Investing Today for a Resilient Tomorrow

For more than a century, EWEB has planned, built, and maintained the systems that deliver safe, reliable, and environmentally responsible power and water to Eugene homes and businesses.

Find Out More
EWEB Celebrates Drinking Water Week by Releasing Water Quality Report
May 03, 2021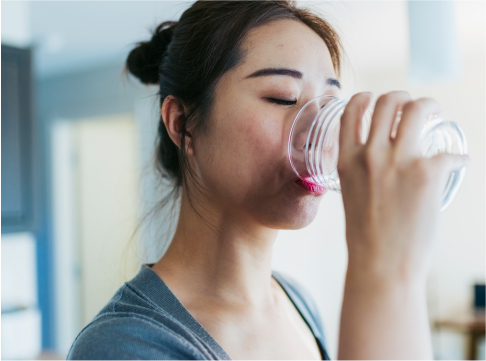 Access to clean water is vital to public health, safety, and the economy.
Each year, EWEB tests more than 85,000 samples of water that runs through 800 miles of pipe to ensure your drinking water is safe. The current Water Quality Report reflects testing completed in 2020 and shows that the water provided by EWEB meets or exceeds all federal and state drinking water standards.
Drinking Water Week is a good time to get to know your H2O
It's easy to take drinking water for granted. We don't often think about what we can't see, like the infrastructure behind our taps: the treatment facility, water pipelines, pumps, and storage reservoirs. But these complex construction and engineering projects reliably deliver clean water to our homes and businesses 24 hours a day, 365 days a year.
Drinking Water Week celebrated annually in the first week of May, offers a great opportunity to think about the systems and people behind the scenes. Whether it's an engineer designing a new reservoir, a treatment plant operator ensuring the safety and quality of drinking water, or a member of a crew maintaining the infrastructure in our community, water professionals work around the clock to ensure tap water is there when you need it.
We're investing in water
Long-term planning and cost-effective investments in water reliability have served EWEB customers well for more than 100 years. As critical infrastructure ages and new challenges arise, continued investment is needed to ensure uninterrupted delivery of the high-quality drinking water that supports Eugene's quality of life and a healthy local economy.
EWEB maintains 800 miles of pipes, 22 water tanks, dozens of pump stations, and other critical facilities. Our source-to-tap drinking water programs are helping keep those systems prepared and adaptable to future changes. We have invested more than $30 million upgrading and expanding our Hayden Bridge Water Filtration Plant. We are replacing water mains, improving pump stations, building new storage tanks, planning for a second filtration plant on the Willamette River, and developing neighborhood emergency water stations.
As we continue to care for critical infrastructure, we're also investing in the source of our drinking water-the McKenzie River and its surrounding watershed. In the aftermath of the Holiday Farm Fire, we're working with partners in the McKenzie valley to revegetate burned properties, encourage smart rebuilding away from the river, and acquire destroyed properties for conservation management. Our goal is to build back stronger and with greater resilience to future natural disasters.
To help fund that investment, EWEB's elected Board of Commissioners recently approved a new Watershed Recovery Fee that will be assessed to all residential and commercial customers beginning this summer. The community-funded watershed recovery and restoration initiative will supplement EWEB's McKenzie River Source Protection Program to safeguard drinking water for Eugene residents.
How to learn more
Each year, EWEB presents a Consumer Confidence Report, also known as our Drinking Water Quality Report. This document combines required annual notices about contaminants with important facts about the source and quality of your drinking water. In the 2020 report, you'll find information about:
Impacts of the Holiday Farm Fire in the McKenzie Watershed
How lead could get into your household drinking water
Troubleshooting taste and odor problems
Preparing for water emergencies
Read the 2020 Drinking Water Quality report online or request a printed copy by contacting us at 541-685-7861 or water.quality@eweb.org. Para una copia de este informe en español, contáctenos en eweb.answers@eweb.org o 541-685-7000.