Related News
Related News

National Preparedness Month: Older adults take control in 1, 2, 3

We know older adults can face greater risks when it comes to the extreme weather events and emergencies we face, especially if they are living alone, are low-income, have a disability, depend on electricity for medical needs, or live in rural areas.

Find Out More

Bethel neighbors boost emergency preparedness during Emergency Water Station event

Staff gave out about 300 emergency water containers to enthusiastic community members eager to learn more about the water station.

Find Out More

How does EWEB recover the costs of serving customers

Here's an overview of the three primary ways EWEB recovers the costs of serving customers and generates the funds needed to keep the power on and the water flowing.

Find Out More

Stay cool during extreme heat events

With temperatures forecasted to reach over 100 degrees over the next several days, we've prepared some tips and tricks to help you stay cool.

Find Out More

Women in STEM: Meet our servant leader and maker of tough decisions

Karen Kelley, Chief Operations Officer at EWEB, describes herself as a "servant leader," offering support and mentoring to four division managers at EWEB.

Find Out More
EWEB Invests More Than $30 Million in Filtration Plant
May 12, 2017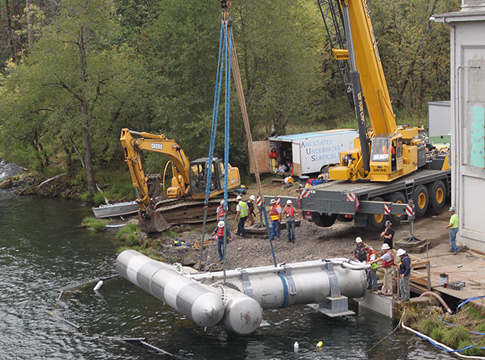 After investing more than $30 million upgrading, expanding and renovating our Hayden Bridge Water Filtration Plant over the past eight years, we are nearly done with a series of capital improvements aimed at increasing reliability and efficiency at the 67-year-old facility.

The improvements at Hayden Bridge, our only filtration plant, are part of the Water Reliability Initiative to increase the system's resilience now and for future generations. There are several emergencies that could result in a water supply shortage, and the most devastating would be a large earthquake, including a seismic event along the Cascadia Subduction Zone.
Research indicates there is a high probability the Willamette Valley will experience a significant earthquake within the next 50 years, and water systems are especially vulnerable to such damage. Distribution and transmission pipes are susceptible to rupture during sudden ground movement, and a substantial seismic event could affect intake structures that draw water from the McKenzie River, and the filtration plant itself.
Over the past several years, we have completed a series of seismic upgrades to the plant, including reinforcing basin walls and filter buildings, as well as the head house. A project expected to be complete late this summer - disconnecting an old flume from the filtration building - will complete the seismic improvements. Later this year, we will start a project to replace the gas chlorine system. Once operational, the system will be able to generate liquid chlorine at the plant site.
Other significant work already finished includes a plant expansion that added a new contact basin and two new filters; updated electrical systems and instrumentation; installation of new pumps and piping; and the addition of a new compressor building.
"Targeted, incremental improvements to critical infrastructure is our top priority in order to provide reliable and affordable water service to our customers for the long term," said Brad Taylor, water operations manager. "Looking at our investments in Hayden Bridge make me very proud of our highly skilled staff, and of the increased resiliency of our water system"
In addition to replacing older distribution pipes throughout the service area and upgrading and expanding the equipment at Hayden Bridge, EWEB is also planning to build a second, smaller filtration plant on the Willamette River. Property acquisition, planning and engineering work is underway on that project. EWEB expects the second filtration plant to become operational in 2022.