Related News
Related News

Public Power Week Poster Contest 2023

It's that time of year again! October 1-7 is Public Power Week. To celebrate, EWEB is holding our annual poster contest for fifth graders in our service area. Help us pick the winners.

Find Out More

Salmon Return to Finn Rock Reach

Finn Rock Reach and other restoration projects throughout the Middle McKenzie provide conditions to help young fish survive to adulthood.

Find Out More

EWEB programs reflect community values

EWEB is here to serve our customer-owners and provides programs that reflect the values of our community.

Find Out More

EWEB Prepares for the Annual Observance of "Imagine a Day Without Water"

Water infrastructure is essential, invaluable, and in need of continuous investment. Read how EWEB's Staff and Board of Commissioners are working to safeguard Eugene's water future.

Find Out More

Rate Setting Process is Customer Driven and Community Focused

EWEB's Board of Commissioners is considering rate changes to help maintain reliable utility services and fund critical investments in Eugene's water and electric infrastructure.

Find Out More
EWEB and City of Eugene finalize sale of former riverfront headquarters
June 28, 2023 • Aaron Orlowski, EWEB Communications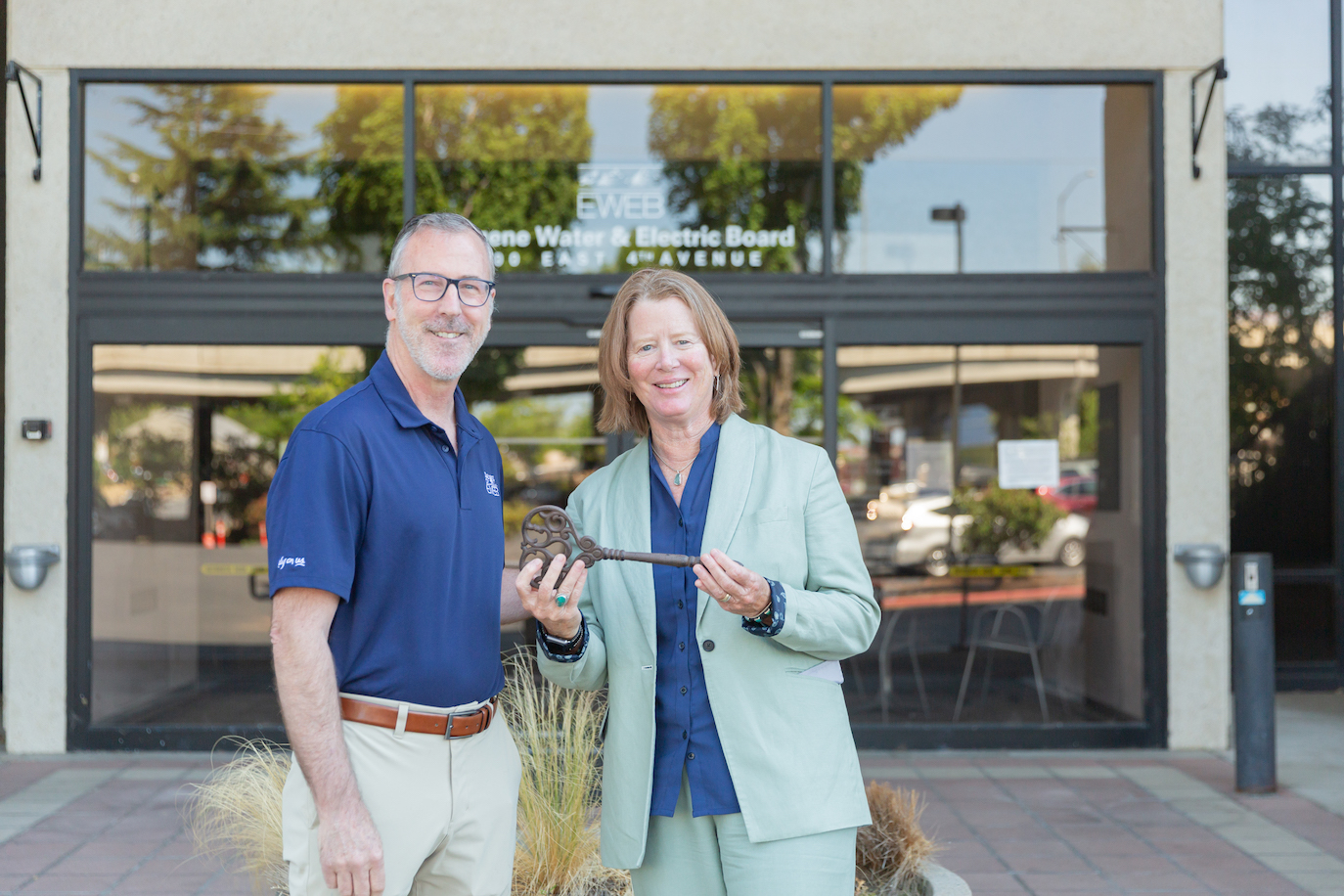 EWEB has completed the sale of the utility's former downtown riverfront headquarters property to the City of Eugene after several months of due diligence.
The two buildings on 4.4 acres will transformed into Eugene's new City Hall, located at 500 E. 4th Ave. EWEB General Manager Frank Lawson and Eugene City Manager Sarah Medary signed closing documents and officially handed over the site keys on Tuesday.
"We're glad that the City of Eugene is buying EWEB's former riverfront headquarters site to maintain this location as a space for the community," said EWEB General Manager Frank Lawson. "EWEB and the City have always had a positive and productive relationship, and we're grateful to staff in both organizations for all the work they've done to make this sale happen. In short, selling the site to the City aligned with EWEB's core values and serves our customers well."
The sale concludes a public process that began in February 2022, when EWEB first announced plans to sell the building. Since then, EWEB's operations have fully relocated to the Roosevelt Operations Center in West Eugene. As part of the sale, however, EWEB will be able to maintain about 1,000 square feet of shared public-facing space at the downtown site where customers can make an appointment to conduct EWEB business.
The new City Hall site will establish a place for civic and community engagement and a public space on the river, as well as increasing ease of access to City services and provide long-term savings to the community.

"This is an exciting day and step for Eugene!" said City Manager Sarah Medary. "After more than a decade without a City Hall, it feels very good to say that we've finalized this purchase in a location that builds on our great history and relationship with EWEB, connects our downtown to the Willamette River and uses City funds responsibly."
Several offices from within the Central Services Department, including the City Manager's Office, will relocate to the new site first. An exact timeline and list of offices has not yet been finalized. City Hall offices are expected to open to the community in early 2024.
The Eugene City Council voted 7-1 approving proposed terms and details for the City of Eugene to purchase EWEB's former headquarters site at its January 30 Special Meeting. The purchase will provide space for an accessible City Hall while retaining public ownership of a valuable public building space along the river for better access and service to the community. The terms of the deal include the 4.4-acre property, which includes two buildings and parking lots, for $12 million.