Related News
Related News

EWEB Recognized with Excellence in Communications Awards from American Public Power Association

We are proud to have been recognized with two Excellence in Public Power Communications Awards for 2023 from the American Public Power Association (APPA).

Find Out More

Let's talk turkey. If a disaster strikes, is your family ready?

Many of us avoid discussing politics over the dinner table in the spirit of family peace and harmony. But here's a topic that can bring everyone together: emergency preparedness.

Find Out More

EWEB To Hold First of Two Public Hearings on Proposed 2024 Budget and Prices

At the Nov. 7 Board of Commissioners meeting, EWEB staff will present a proposed budget that includes rate increases necessary to support utility operations and make needed infrastructure investments.

Find Out More

EWEB now offering a Smart Thermostat rebate program

EWEB is excited to announce a new residential rebate program to provide electric customers with free or greatly discounted Smart Thermostats to customers whose primary source of heating is from an electric forced-air furnace or heat pump.

Find Out More

Your EWEB Rates at Work: Investing Today for a Resilient Tomorrow

For more than a century, EWEB has planned, built, and maintained the systems that deliver safe, reliable, and environmentally responsible power and water to Eugene homes and businesses.

Find Out More
Enhancing Your Readiness as you Shelter-in-Place
April 09, 2020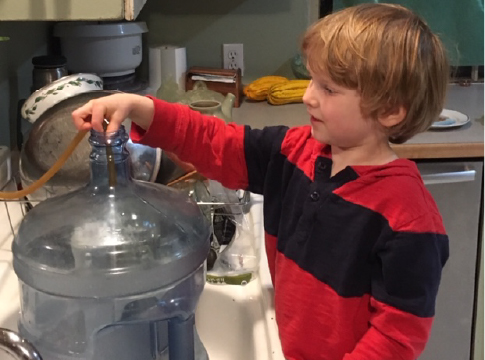 The coronavirus outbreak has forced many of us to take stock (pun intended) of our personal emergency preparedness efforts and understand if we are truly ready to be self-sufficient for an extended period of time.

While we all struggle to cope under shelter-in-place orders, the 6.5 magnitude earthquake that hit Idaho on March 31 was an important reminder that COVID-19 is not the only risk we face. Emergencies can happen at any time.
The Oregon Office of Emergency Management encourages residents to be prepared to be on their own for a minimum of two weeks, in case an earthquake, wildfire, extreme weather event or other disaster disrupts critical services for an extended period.
While it may be difficult to stock up on groceries at the moment, there are still things you can do, even as you shelter-in-place, to enhance your readiness:
Make a Family Emergency Plan
Sit down (or conference call) with your family and make an emergency plan in case a disaster strikes when you're not together. Talk about how you will contact one another and reconnect if separated, and establish a meeting place that is familiar and easy to find. Check out our resource, "3 Steps to a Family Emergency Plan" for more tips.
Shop for supplies online
If you have the time and funds, this could be a good time to enhance your supplies with things like an emergency radio, a fire extinguisher, or a water filter. The American Red Cross offers a good selection of emergency preparedness supplies on their website, as do other online outlets.
Fill emergency water containers
You know those water containers you bought and never filled? Now is the perfect time! And if it's been at least six months since you refreshed your stored water supply, you can give the garden a drink and then refill the containers with fresh tap water. Check out our website for tips on storing and treating water.
Do a household hazard hunt
This is a great way to involve older children in your emergency prep. Use this FEMA checklist to find and fix areas of your home that might be damaged or cause injury during an earthquake. Anything that can move, break, or fall when your house starts to shake is a potential hazard.
If you are feeling overwhelmed by the thought of preparing your home and family for a natural disaster, or just unsure where to begin, join EWEB's Pledge to Prepare and you'll have support every step of the way. When you sign-up, you'll receive a monthly email with step-by-step recommendations to help prepare yourself, your home and your family for an emergency, and have the chance to win useful emergency supplies each month. Learn more and sign up at eweb.org/pledge.