Related News
Related News

Rate Setting Process is Customer Driven and Community Focused

EWEB's Board of Commissioners is considering rate changes to help maintain reliable utility services and fund critical investments in Eugene's water and electric infrastructure.

Find Out More

National Preparedness Month: Older adults take control in 1, 2, 3

We know older adults can face greater risks when it comes to the extreme weather events and emergencies we face, especially if they are living alone, are low-income, have a disability, depend on electricity for medical needs, or live in rural areas.

Find Out More

Women in STEM: EWEB Engineer Laura Ohman's second degree brings a lifetime of benefits

EWEB Engineer Laura Ohman shares how getting her second degree was one of the most difficult and rewarding things she's ever accomplished.

Find Out More

Bethel neighbors boost emergency preparedness during Emergency Water Station event

Staff gave out about 300 emergency water containers to enthusiastic community members eager to learn more about the water station.

Find Out More

How does EWEB recover the costs of serving customers

Here's an overview of the three primary ways EWEB recovers the costs of serving customers and generates the funds needed to keep the power on and the water flowing.

Find Out More
Crews Resume Smart Meter Installations
June 19, 2020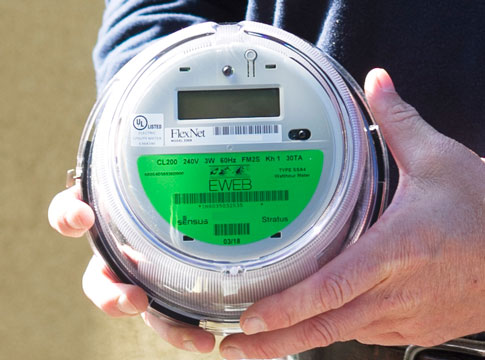 As crews restart system reliability work, EWEB is also resuming route-based deployment for smart electric and water meters as a part of our gradual and responsible return to normal operations.
To support utility and community goals regarding energy and water usage and resiliency, we began upgrading electric and water meters by meter reading route in the fall of 2018.
Route-based deployment for smart electric meters has been on pause since late fall of 2019 to allow for additional work on communication infrastructure. The pause also provided opportunity for project staff to evaluate processes and procedures. The installation of smart water meters was paused in March of this year as a result of the coronavirus pandemic.
With EWEB's slow and steady return to work underway and some recently completed process improvement work, both utilities are set to resume meter upgrades this month.
Prior to the pandemic, the water utility was on track for an end of 2023 completion with a pace of about 250 installations per week. As installations resume, the target has been reduced by 50 per week as each installation is likely to require additional time while crews are following new safety guidelines.
Luke Moran, Water Distribution Monitoring and Compliance Supervisor, also adds that prior to the pandemic, targets were being met in part due to shared staffing resources across departments. In an effort to reduce the spread of the virus, EWEB is taking care to keep crews in different departments from overlapping. As we resume, we do so with fewer staff performing the installations.
"As we continue reintegration of the workforce, we expect we will be able to increase the pace on the water side, back to the average 250 a week needed to meet the 2023 goal," says Luke.
Smart electric meter installations have been on pause since before the pandemic which provided staff time to reevaluate processes and procedures. Resuming a small number of installations supports the "plan-do-check-act" continuous improvement model as staff evaluates the efficacy of the process changes.
"We learned a lot in the first year of meter installations," says Jon Thomas, Project Manager. "Rather than continuing to push forward, it was important we took a small pause to see where adjustments were needed. This helps ensure staff are working as efficiently as possible and that the end result helps us reach our goals of putting more choice and control in the hands of EWEB customers."
With the organization operating under new health and safety guidelines to prevent the spread of coronavirus, the safety of staff and the community is top priority as we ease back into customer-facing field work.
"We recently changed some language in the automated calls and on the website requesting customers maintain social distance with our crews. A lot of folks get curious and want to come ask questions; it's important that be done at a safe distance," says Jon. "We've also reminded staff to follow some basic safety guidelines, like to use hand sanitizer before and after providing the courtesy door knock, or leaving a door hanger," he adds.
Resuming smart meter installation is just one example of EWEB's gradual and responsible return to the work needed to reach organizational and community objectives. The public can help promote a safe work environment by not approaching utility crews in the field or entering their work zones. For everyone's health and safety, please be sure to maintain appropriate physical distancing of six feet if you happen to encounter EWEB crews in the field.