Related News
Related News

Where is EWEB in planning our future electricity supply?

In August, we reached a milestone: EWEB's five-member elected Board of Commissioners approved an action plan to guide our energy supply choices for the next 2-3 years. How did we get here?

Find Out More

Rate Setting Process is Customer Driven and Community Focused

EWEB's Board of Commissioners is considering rate changes to help maintain reliable utility services and fund critical investments in Eugene's water and electric infrastructure.

Find Out More

Women in STEM: EWEB Engineer Laura Ohman's second degree brings a lifetime of benefits

EWEB Engineer Laura Ohman shares how getting her second degree was one of the most difficult and rewarding things she's ever accomplished.

Find Out More

Planning for a Future of Reliable, Affordable, Environmentally Responsible Energy

The challenges revealed by Eugene Water & Electric Board's integrated resource planning process mirror those facing the Northwest.

Find Out More

EWEB's heat driven call to conserve energy yields major savings

EWEB is likely to implement similar, formalized "demand response" programs in the future.

Find Out More
Commissioners Approve Resolution to Decommission Leaburg Hydroelectric Project
January 04, 2023 • Adam Spencer, EWEB Communications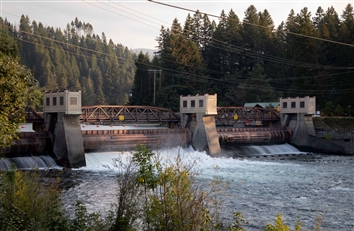 EWEB Commissioners voted to decommission the Leaburg Hydroelectric Project at their first meeting of the year on January 3.
All five Commissioners voted to approve Resolution 2302, which directs the General Manager to develop a Leaburg Hydroelectric Project Decommissioning Action Plan (LDAP). The LDAP will guide staff in creating milestones for reporting progress to the Board and to determine a framework for how the Board can continue to provide oversight on the decommissioning process.
Commissioners also unanimously approved a Record of Decision in support of the "Management Recommendation: Future Disposition of the Leaburg Hydroelectric Project."
The Recommendation advocates:
permanently discontinuing electricity generation at the Leaburg Hydroelectric Project,
removing Leaburg Dam and restoring the McKenzie to a free-flowing river in the project area,
developing access to Leaburg Dam Road on the southern side of the river, preferably through Leashore Drive and the Goodpasture Bridge, if possible,
repairing the Leaburg Canal for stream and stormwater conveyance (SWC), while preserving the future option to completely restore the site to pre-project conditions,
working with water rights holders to mitigate the effects of dewatering the Leaburg Canal, particularly the Leaburg and McKenzie fish hatcheries,
conducting a similar assessment of the Walterville Hydroelectric Project by the early 2030's, and
identifying opportunities and requirements for Board review, guidance, and direction moving forward.
Later in the meeting, Commissioners voted to approve the development of the LDAP as an organizational goal for 2023. Staff will provide quarterly updates on the Plan's development.
General Manager Frank Lawson emphasized that decommissioning the project is a regulatory-driven process requiring several years of studies and negotiations with settlement parties before decommissioning construction activities will begin. Generation Manager Lisa Krentz added that the proposed timeline of beginning construction by 2033 is hopeful and that, to her knowledge, decommissioning projects routinely take longer than anticipated.
Meanwhile, staff will continue working on near-term risk-reduction measures on the Leaburg Canal.
Commissioners requested continued public outreach on the decommissioning process.
"As much information as we can get to the public – when we know or have a better idea – is important to me as a Commissioner," said EWEB Board Vice President John Barofsky.
Throughout the year, EWEB staff will continue to provide updates through the Leaburg Canal Updates Newsletter, as well as scheduling meetings with interested groups to explain the implications of decommissioning on electricity rates, recreation, water rights, fisheries, and other considerations, as discovered. Staff will also advise interested parties how to participate in the negotiations between EWEB and various interest groups to develop a settlement agreement.
Once a settlement agreement is reached, EWEB will petition the Federal Energy Regulatory Commission (FERC) for approval and begin designing and permitting to begin decommissioning the project.
Watch the presentation and discussion, starting at 36:40: