Related News
Related News

National Preparedness Month: Older adults take control in 1, 2, 3

We know older adults can face greater risks when it comes to the extreme weather events and emergencies we face, especially if they are living alone, are low-income, have a disability, depend on electricity for medical needs, or live in rural areas.

Find Out More

Women in STEM: EWEB Engineer Laura Ohman's second degree brings a lifetime of benefits

EWEB Engineer Laura Ohman shares how getting her second degree was one of the most difficult and rewarding things she's ever accomplished.

Find Out More

Bethel neighbors boost emergency preparedness during Emergency Water Station event

Staff gave out about 300 emergency water containers to enthusiastic community members eager to learn more about the water station.

Find Out More

Stay cool during extreme heat events

With temperatures forecasted to reach over 100 degrees over the next several days, we've prepared some tips and tricks to help you stay cool.

Find Out More

Women in STEM: Meet our servant leader and maker of tough decisions

Karen Kelley, Chief Operations Officer at EWEB, describes herself as a "servant leader," offering support and mentoring to four division managers at EWEB.

Find Out More
Customer Service Lobby Closed for Safety and Health
March 16, 2020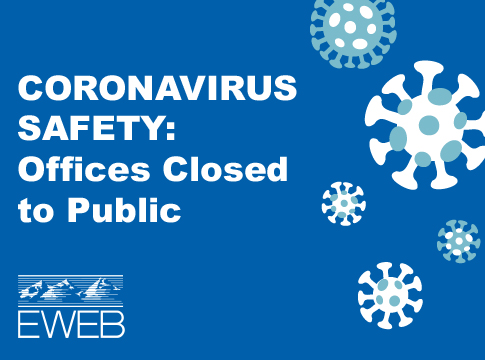 In an effort to slow the spread of the COVID-19 virus, our Customer Service lobby will be closed to the public starting Tuesday, March 17. The lobby will remain closed until further notice, extended from the previous date of April 30.
This decision follows a great deal of deliberation and was made to protect employees and customers by reducing the risk of contracting and/or transmitting the virus. Our first priority is keeping customers and employees safe and well-informed while minimizing the spread of the coronavirus.
EWEB, as an essential service provider, is expending significant resources to make sure that we can continue to provide reliable electricity and water to our customers. To do so, we must keep our workforce healthy.
During the lobby closure, we are suggesting customers use alternatives to conducting business face-to-face:
Pay your bill online at eweb.org, over the phone, or at our convenient bill drop box at 500 E. 4th Ave.
Schedule start/stop service online at eweb.org
Call EWEB at 541-685-7000 or email eweb.answers@eweb.org for regular business
Customer Service staff will be available from 9 a.m. to 6:30 p.m. Monday through Friday by phone or email.
A few days ago, we announced a series of crisis relief steps in response to the coronavirus pandemic.
We are temporarily suspending service disconnections and late fees for customer non-payment during the coronavirus crisis.
In addition to immediately putting a hold on electric disconnections and water service shut-offs for those who are behind on their utility bills, we are expanding bill assistance programs and implementing residential and commercial loan deferrals to help customers through the economic disruptions caused by the virus outbreak.
Customers who avoid service shutoffs during this grace period will still owe EWEB for past due balances, and are encouraged to contact us to make payment arrangements or inquire about assistance programs to avoid accruing a large overdue bill.
Starting April 1, we will expand our EWEB Customer Care program to provide a $260 credit to any customer who loses a job. Affected customers can apply for this bill credit by submitting proof of unemployment benefits from the Oregon Employment Department.
Unlike other assistance programs, the job loss benefit doesn't include an income threshold. We are also increasing the amount of funding available to limited income and job loss applicants in order to increase the number of customers receiving a $260 credit. Over the next three months, we will double the amount of funding originally budgeted for EWEB Customer Care bill assistance program in response to the coronavirus crisis.
And customers with residential or commercial energy-efficiency loans will be able to defer those loan payments upon request.
As the virus-related economic disruptions increase in the coming days and weeks, we are urging those affected to call Customer Service at (541) 685-7000 for help in paying their utility bills or setting up payment plans.
Customers experiencing a reduction in pay due to slowing business conditions, or those forced to take unpaid leave due to coronavirus mitigation efforts, should contact us to inquire about crisis funding. We will consider these on a case-by-case basis.
Our focus during this crisis will continue to be protecting public and employee safety while making sure we are able to maintain the essential services of delivering high-quality water and reliable electricity to customers.