Related News
Related News

EWEB Recognized with Excellence in Communications Awards from American Public Power Association

We are proud to have been recognized with two Excellence in Public Power Communications Awards for 2023 from the American Public Power Association (APPA).

Find Out More

Let's talk turkey. If a disaster strikes, is your family ready?

Many of us avoid discussing politics over the dinner table in the spirit of family peace and harmony. But here's a topic that can bring everyone together: emergency preparedness.

Find Out More

EWEB now offering a Smart Thermostat rebate program

EWEB is excited to announce a new residential rebate program to provide electric customers with free or greatly discounted Smart Thermostats to customers whose primary source of heating is from an electric forced-air furnace or heat pump.

Find Out More

Your EWEB Rates at Work: Investing Today for a Resilient Tomorrow

For more than a century, EWEB has planned, built, and maintained the systems that deliver safe, reliable, and environmentally responsible power and water to Eugene homes and businesses.

Find Out More

Have an energy efficient and water conscious holiday season

The holiday season is officially upon us. Whether you are celebrating a special holiday or just sharing a meal with close friends and family, hosting can cause some unexpected energy and water usage increases – resulting in a higher utility bill. We've prepared some tips on how you can save energy and water this holiday season.

Find Out More
Change in Drinking Water Disinfection Process
December 02, 2019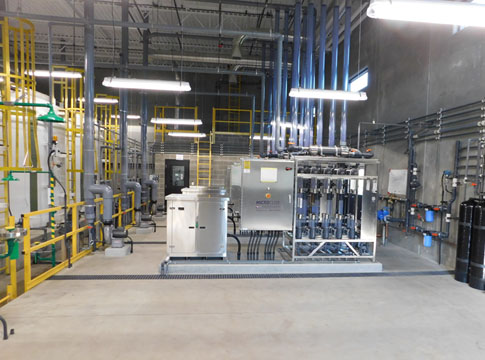 The first week of December marks a significant milestone in how staff at our Hayden Bridge Filtration Plant disinfects drinking water, switching from chlorine gas to a liquid chlorine bleach that is manufactured on-site.
Resiliency and safety are the primary drivers in the chlorination change. Chlorine gas is toxic and can be hazardous to transport and store. Currently, there are two suppliers of chlorine gas in the West, one in Washington and one in Utah. Any disruption to the transportation system would have a significant impact on our ability to treat drinking water.
The new system, which uses coarse salt, water and electrolytic conversion to make sodium hypochlorite (bleach), allows us to store enough salt at the filtration plant to last three months. In addition, this system is much safer for our employees and neighbors.
The sodium hypochlorite generation system will improve water quality, and it is a proven, effective and safe chlorination method.
There is a slight chance that this change in disinfectants could result in some temporary chlorine "odor" issues and discoloration of the water in the distribution system. Running the cold water tap for one minute should help. Click here for additional flushing options and frequently asked questions. Here is a video link to how the new process works: http://www.4psi.net/microclor-brochure.php
Learn more about how we deliver safe, reliable drinking water from source to tap.