Related News
Related News

Rate Setting Process is Customer Driven and Community Focused

EWEB's Board of Commissioners is considering rate changes to help maintain reliable utility services and fund critical investments in Eugene's water and electric infrastructure.

Find Out More

National Preparedness Month: Older adults take control in 1, 2, 3

We know older adults can face greater risks when it comes to the extreme weather events and emergencies we face, especially if they are living alone, are low-income, have a disability, depend on electricity for medical needs, or live in rural areas.

Find Out More

How does EWEB recover the costs of serving customers

Here's an overview of the three primary ways EWEB recovers the costs of serving customers and generates the funds needed to keep the power on and the water flowing.

Find Out More

Stay cool during extreme heat events

With temperatures forecasted to reach over 100 degrees over the next several days, we've prepared some tips and tricks to help you stay cool.

Find Out More

Women in STEM: Meet the woman responsible for managing our wholesale energy agreements to ensure we meet our customers energy needs

Megan Capper, the Energy Resource Manager at EWEB, began her career working in economics at BPA before joining the power planning department EWEB, ensuring we can meet the energy needs of our our customers today, tomorrow and 20 years from now.

Find Out More
Call Before You Dig
April 04, 2018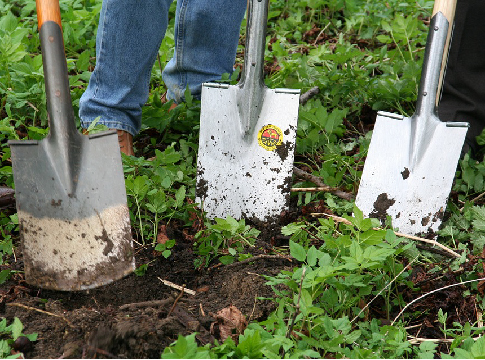 Even small, shallow projects such as planting shrubs, installing a post or removing a root can be dangerous and costly if you inadvertently hit a power line, cable or pipe.
Did you know state law requires you to call at least two working days before you start digging?
You can protect yourself and your family from injury, expense and penalties by knowing where underground utility lines are buried before you begin a digging project. Whether you are a homeowner or a professional excavator, one easy phone call to 811 gets your underground utility lines marked for free.
When you call 811, operators at the Oregon Utility Notification Center will ask you for the location of your digging job and route your call to affected utility companies. Your utility companies will then send a professional locator to your site to mark your lines within a few days.
You do not need to be home, unless you have specific questions, or you have locked gates that prevent access to your property. Be sure pets are restrained when locators arrive. Once your underground lines have been marked, you will know the approximate location of your utility lines and can dig safely.
Use this color coded chart to keep track of what type of utility line might be on the property:
There are thousands of miles of underground facilities throughout our community. Don't take the chance of accidentally hitting a line while you're digging.

A safe digging project must always start with a call to Oregon 811. It's free. It's easy. It's the law.
How to request location of underground utilities
Call 811
Call 1-800-332-2344