Related News
Related News

EWEB 2023 year in review

In 2023, EWEB invested in our community with grants, rebates and an array of other programs and measures aimed at fulfilling our core values of safety, reliability, affordability, environmental responsibility and community/culture.

Find Out More

EWEB Recognized with Excellence in Communications Awards from American Public Power Association

We are proud to have been recognized with two Excellence in Public Power Communications Awards for 2023 from the American Public Power Association (APPA).

Find Out More

Let's talk turkey. If a disaster strikes, is your family ready?

Many of us avoid discussing politics over the dinner table in the spirit of family peace and harmony. But here's a topic that can bring everyone together: emergency preparedness.

Find Out More

EWEB To Hold First of Two Public Hearings on Proposed 2024 Budget and Prices

At the Nov. 7 Board of Commissioners meeting, EWEB staff will present a proposed budget that includes rate increases necessary to support utility operations and make needed infrastructure investments.

Find Out More

Public Power Week Poster Contest Winners 2023

The results are in! View the winning posters from EWEB's 2023 Public Power Week Poster Contest.

Find Out More
Board Report: EWEB Commissioners kick off 2023 with a record of decision on Leaburg
January 05, 2023 • Rachael McDonald, EWEB Communications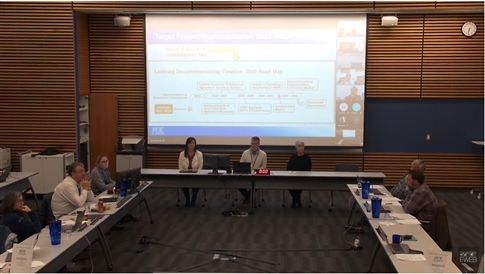 New Year, New Leadership
The EWEB Board of Commissioners started off their first meeting of 2023 by choosing a new board president and vice president. Commissioner Sonya Carlson will serve as board president with Commissioner John Barofsky as Vice Chair. Outgoing president John Brown handed Carlson the gavel after the unanimous vote approving the new slate. Other new year business included board liaison assignments.
EWEB will draft an action plan for decommissioning Leaburg dam
The board voted to approve Resolution 2302, which directs the General Manager to develop a Leaburg Hydroelectric Project Decommissioning Plan. The plan will provide a framework for oversight of the decommissioning process with regular progress reports from staff. The decision to decommission the Leaburg project came after nearly a year of analysis, public meetings, and public input.
Commissioner Matt McRae said the Leaburg decision wasn't easy, given its complexity. He acknowledged the matter has been under discussion for more than a year.
"I don't take this decision lightly and I don't think my fellow board members do either," McRae said. "I think the decision to move towards decommissioning is the right one. And there are many reasons for this, but for me, the primary reason stems from the immense unknowns and economic risks that the utility faces if we move to repair the project and resume operation."
Construction won't likely begin until the early to mid-2030s. Lawson said there will be a lot of planning and work ahead which will be described in the action plan.
"The record of decision and the resolution doesn't mean the wrecking balls come out next week," said EWEB General Manager Frank Lawson. "This is going to be a long process. A very regulatory-driven process as well."
McRae and other commissioners thanked the project team for their work.
"This isn't the end of our involvement in this," Board President Sonya Carlson said. "It has an immense impact on our citizens, no matter where you live in our territory, and is not to be taken lightly."
Organizational Goals and Priorities
EWEB Assistant General Manager Rod Price presented Organizational Goals for 2023:
Maintain ongoing operational effectiveness
Build and inspire a workforce and workforce culture
Progress towards replacing aging customer and financial information systems
Build on 2022 Integrated Resource Plan (IRP), with stakeholder outreach and continued analysis and public input.
Progress towards construction of a second drinking water treatment plant on the Willamette River.
Complete an initial Leaburg Decommissioning Action Plan (LDAP)
Price told the board staff has incorporated board feedback from their meeting in December 2022.
"We came away with three themes," said Price. "One of those was to make sure we incorporate our community and Diversity Equity and Inclusion (DEI) in goals, the other was to include resiliency in organizational goals."
Price also noted a request to have new goals with previous years checked off when complete. He said those themes have been incorporated into the goals.
Board president Sonya Carlson said she can see how each item on the goal list needs resiliency. "I do wonder, is there a place for a policy of sorts?"
EWEB General Manager Frank Lawson responded.
"I do see that it permeates across all the areas of how we operate, how we staff, how we plan," Lawson said. "And I do think it would be worthwhile to have some discussions around a resiliency policy."
Lawson added that many of EWEB's goals are in support of resiliency. "The second treatment plant is all about resiliency," he said. "You don't necessarily see the word resiliency in here a lot because the outcomes of what's driving it is resiliency."
The board unanimously approved the 2023 Organizational Goals and Priorities.
EWEB's Climate Guidebook
The Board of Commissioners heard from Kelly Huell, EWEB Climate Policy Analyst and Advisor, who is leading creation of EWEB's Climate Guidebook. She said it will be a reference document to articulate how EWEB is addressing climate change and how EWEB's work intersects with climate related issues. She compared it to an encyclopedia that addresses different topics.
The document is based on EWEB's Climate Change Policy SD15, which was passed in 2007 and updated in 2018 and 2022.
Huell said the guidebook will be a living document, regularly updated and available to the board, EWEB staff, and customers for reference.
Commissioner Mindy Schlossburg said she thinks the guidebook can be a helpful tool when trying to see EWEB's big picture with climate.
"It would be just a great reference, as a one-stop shop reference book." Schlossburg said a lot of community members have questions about our climate policy and where we're headed and it would be helpful to have the guidebook for reference. She said another useful element would be to include action items for customers. "I think it's important to give people tools."
Huell said she hopes the guidebook will help make connections, so people understand the steps EWEB is taking to meet its climate goals, including its energy sources being 95% carbon free by 2030. She said she'll be meeting with community interest groups in the coming weeks. The first iteration of the climate guidebook is set to be released in March.
The EWEB Board of Commissioners is an elected volunteer board which represents EWEB ratepayers. You can attend board meetings and find archived meetings at EWEB.org/board.