Related News
Related News

Planning for a Future of Reliable, Affordable, Environmentally Responsible Energy

The challenges revealed by Eugene Water & Electric Board's integrated resource planning process mirror those facing the Northwest.

Find Out More

EWEB's heat driven call to conserve energy yields major savings

EWEB is likely to implement similar, formalized "demand response" programs in the future.

Find Out More

Please join your neighbors in reducing energy use today

With excessive temperatures and wildfire conditions affecting power generation across the region, EWEB is encouraging customers to safely conserve power.

Find Out More

Stay cool during extreme heat events

With temperatures forecasted to reach over 100 degrees over the next several days, we've prepared some tips and tricks to help you stay cool.

Find Out More

Planning for a Reliable, Affordable, Green Energy Future

EWEB General Manager Frank Lawson publishes an op-ed in the Eugene Weekly about EWEB's IRP.

Find Out More
Attend a free workshop and save thousands on an electric vehicle
April 16, 2018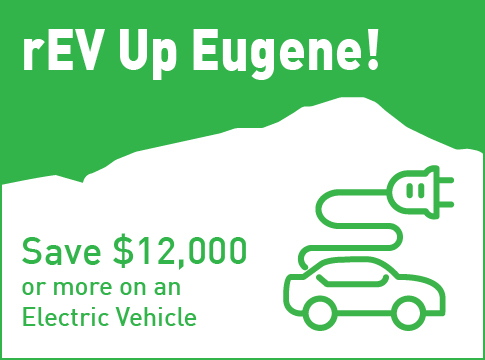 For a limited time, we're teaming up with University of Oregon, the City of Eugene and participating auto dealers to bring the benefits of electric vehicles to more households.
Between April 18 and June 15, attend a free EV workshop and you will be eligible for exclusive discounts on several models of electric vehicles. Utility incentives for EWEB customers, dealer discounts and tax credits could save buyers $12,000 or more.
Workshop dates:
Wednesday, April 18 from 6-7:30 p.m.
Monday, April 23 from 6-7:30 p.m.
Tuesday, May 15 from 6-7:30 p.m
Monday, May 21 from 6-7:30 p.m.
Electric vehicles have several advantages over combustion engine cars. Cost of ownership is one such advantage. In our area, it will cost most drivers around $400 per year to charge an EV, compared to around $1,600 a year in gasoline costs. And fewer moving parts make electric vehicles ultra-low maintenance.
Many drivers are turning to electric cars for environmental benefits as well. Battery Electric Vehicles (BEVs) are powered entirely by electricity—no gas and no emissions. Thanks to EWEB's low-carbon hydroelectric power, replacing a fossil-fuel burning car with an electric vehicle is a great way to contribute to community fossil fuel reduction goals.
The rEV Up Eugene! Workshop covers everything buyers need to know about EVs, including fuel costs, carbon emissions, battery range, charging options, maintenance, and federal, state and local incentives. After attending a workshop, participants are eligible for rebates from participating auto dealers Kendall Ford, Lithia Nissan and Guaranty Chevrolet.
EWEB is offering EV incentives to customers as well.
Our Clean Ride Rebate of $300 will pay for fuel for a year for most drivers, or help offset the cost of a home charging station. In addition to the everyday Clean Ride Rebate, EWEB customers who attend a rEV Up Eugene! Workshop are eligible for a $250 cash rebate on the purchase (or lease) of any new or used Battery Electric Vehicle.
"EWEB has been an early advocate of addressing climate change, and we see electrifying the transportation sector as an important part of our community's low-carbon future," said EWEB Business Line Manager Juan Serpa Muńoz. "Although the cost of driving an EV can be significantly lower than a gas-powered car, we know that price of entry can be a barrier for some of our customers. We're excited to participate in rEV Up Eugene! because the incentives can help make clean, electric transportation accessible to households in a range of income levels."
Registration is required for workshops. Details and the registration link at https://cpfm.uoregon.edu/rev-eugene.