Related News
Related News

Rate Setting Process is Customer Driven and Community Focused

EWEB's Board of Commissioners is considering rate changes to help maintain reliable utility services and fund critical investments in Eugene's water and electric infrastructure.

Find Out More

National Preparedness Month: Older adults take control in 1, 2, 3

We know older adults can face greater risks when it comes to the extreme weather events and emergencies we face, especially if they are living alone, are low-income, have a disability, depend on electricity for medical needs, or live in rural areas.

Find Out More

Women in STEM: EWEB Engineer Laura Ohman's second degree brings a lifetime of benefits

EWEB Engineer Laura Ohman shares how getting her second degree was one of the most difficult and rewarding things she's ever accomplished.

Find Out More

Bethel neighbors boost emergency preparedness during Emergency Water Station event

Staff gave out about 300 emergency water containers to enthusiastic community members eager to learn more about the water station.

Find Out More

How does EWEB recover the costs of serving customers

Here's an overview of the three primary ways EWEB recovers the costs of serving customers and generates the funds needed to keep the power on and the water flowing.

Find Out More
April 4 Board Meeting Report
April 18, 2023 • Rachael McDonald, EWEB Communications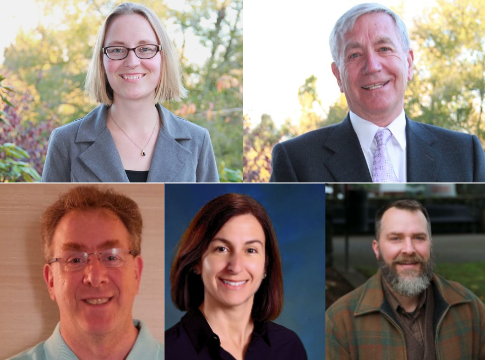 PUBLIC INPUT
Public participation is a hallmark of community-owned utilities. We value your comments and provide time at each Board meeting for you to address your elected Commissioners. At the April 4, 2023 Board meeting, one customer provided comments about EWEB's water storage improvement project near E. 40th Ave. A second customer commented on EWEB's Integrated Resource Plan.
TOPICS & DECISIONS:
2022 Audit Results of EWEB Financial statement
EWEB's independent auditors, Moss Adams, reviewed their findings for the 2022 financial statement. The result was no findings of any concern.
City of Eugene Liaison agenda
The Board discussed topics it might want to collaborate on with the city of Eugene. Ideas included improving access to electric vehicle chargers in the city.
Prefunding / Funding options for Leaburg Hydroelectric project
EWEB staff sought Board guidance as the utility plans to fund decommissioning of the Leaburg Dam and Hydroelectric Project. The goal is to balance affordability and costs and maintain flexibility for the future. The total cost is estimated at $225 million over 10 years. But if EWEB needs to take on debt, that cost will be higher because of interest payments. Commissioners agreed they want to seek ways to prefund the project to avoid some debt and minimize costs for EWEB customers. Staff said it will bring a funding recommendation back to the Board, along with an explanation of the process.
2022 State of the Watershed Report:
EWEB staff presented the 2022 State of the Watershed report to the Board. Water quality in the McKenzie River remains excellent. Among the highlights of the report were the launch of EWEB's septic grant program for McKenzie Valley landowners impacted by the Holiday Farm Fire, continued monitoring of the McKenzie and continued restoration work to protect the watershed. In 2022, EWEB and partners conducted a spill drill on the Willamette River.
General Manager's Annual Performance Evaluation and Merit Discussion
The Board agreed with the recommended 2.8% merit raise for General Manager Frank Lawson. He will have the option to take it as a lump sum or as vacation time. Board members pointed to Lawson's major successes over the last year, including the decision to decommission the Leaburg Hydroelectric Project and the sale of the former headquarters building to the City of Eugene.
NOTABLE QUOTES:
General Manager Frank Lawson, on prefunding the Leaburg project: "We talk a lot in this room about resiliency. Financial resiliency is also important. There could be a number of things that happen here. Costs could go up. The schedule could change. One of the big considerations is which of these options provide the best financial resiliency for whatever Board is making these decisions in the 2030s."
Commissioner John Barofsky on prefunding the Leaburg project: "This is a bill we have to pay. We know we have to pay it. Do we put it on our credit card or do we take a little money out of our paycheck each week? Biting the bullet early is the best way."
Commissioner Matt McRae on the State of the Watershed report: "We have the best water in the world, and I am so grateful for it. And (I'm) grateful for the work this utility does to protect our water quality and the watershed."
Chief Operating Officer Karen Kelley summing up the State of the Watershed report: "This is unusual to invest in our source, in this way, for a utility. You can see, year over year, we're keeping an eye on this, we're responding appropriately, we're preventing things, all for the health of our customers. One of the main reasons we need a second (drinking water) source is to deal with outfalls that we have no control over. Because we do not own this watershed and we rely on our partnerships to make sure our water is safe."
General Manager Lawson during his performance evaluation: "I'm incredibly blessed to work in this organization with the people that I do. That includes the Board and staff. This is a really classy organization. Your leadership is a part of that. I really appreciate the efforts and relationships we have here. There's a lot more work to come. We've got an endless supply of challenges and opportunities and I look forward to working with you."
NEXT BOARD MEETING
The next EWEB Board of Commissioners meeting is May 2, 2023. You can find agendas, information on how to submit public comment and watch previous board meetings at eweb.org/board