Related News
Related News

National Preparedness Month: Older adults take control in 1, 2, 3

We know older adults can face greater risks when it comes to the extreme weather events and emergencies we face, especially if they are living alone, are low-income, have a disability, depend on electricity for medical needs, or live in rural areas.

Find Out More

Women in STEM: EWEB Engineer Laura Ohman's second degree brings a lifetime of benefits

EWEB Engineer Laura Ohman shares how getting her second degree was one of the most difficult and rewarding things she's ever accomplished.

Find Out More

Bethel neighbors boost emergency preparedness during Emergency Water Station event

Staff gave out about 300 emergency water containers to enthusiastic community members eager to learn more about the water station.

Find Out More

Stay cool during extreme heat events

With temperatures forecasted to reach over 100 degrees over the next several days, we've prepared some tips and tricks to help you stay cool.

Find Out More

Women in STEM: Meet our servant leader and maker of tough decisions

Karen Kelley, Chief Operations Officer at EWEB, describes herself as a "servant leader," offering support and mentoring to four division managers at EWEB.

Find Out More
Annual KidWind Challenge Showcases Model Wind Turbines
April 24, 2017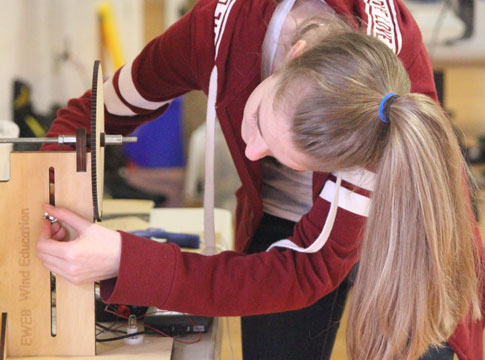 On a recent sunny spring day, dozens of Bethel middle school students filled the gym at Meadow View School for the annual KidWind Challenge. Nervous laughter and anxious faces filled the space as the students waited to put their model wind turbines, and their knowledge of wind energy, to the test.
Earlier in the school year, students worked in teams to design, test and refine their turbines before holding a class competition. The winning team from each class was invited to participate in the district-wide event.
At the district challenge, teams received scores based on the energy their turbine produced and their ability to answer questions in front of an interview panel. The interview panels were led by EWEB employees who quizzed the students on general wind energy concepts and facts, and asked questions about the students' design process.
"It was really fun to see how excited some of the kids were about the turbines they built," says Adam Rue, a resource analyst with EWEB. "They took the challenge seriously and I was impressed with the level of knowledge many of the teams displayed."
A team from Shasta Middle School took first place with a near perfect interview score and their turbine also finished top of the list, producing 37,999 milliwatts in 60 seconds.
EWEB is proud to support KidWind and other hands-on STEM education that fosters curiosity, creativity and a lifelong love of learning.