Related News
Related News

Rate Setting Process is Customer Driven and Community Focused

EWEB's Board of Commissioners is considering rate changes to help maintain reliable utility services and fund critical investments in Eugene's water and electric infrastructure.

Find Out More

National Preparedness Month: Older adults take control in 1, 2, 3

We know older adults can face greater risks when it comes to the extreme weather events and emergencies we face, especially if they are living alone, are low-income, have a disability, depend on electricity for medical needs, or live in rural areas.

Find Out More

Women in STEM: EWEB Engineer Laura Ohman's second degree brings a lifetime of benefits

EWEB Engineer Laura Ohman shares how getting her second degree was one of the most difficult and rewarding things she's ever accomplished.

Find Out More

Bethel neighbors boost emergency preparedness during Emergency Water Station event

Staff gave out about 300 emergency water containers to enthusiastic community members eager to learn more about the water station.

Find Out More

How does EWEB recover the costs of serving customers

Here's an overview of the three primary ways EWEB recovers the costs of serving customers and generates the funds needed to keep the power on and the water flowing.

Find Out More
13th annual Run to Stay Warm fundraiser is Nov. 24
November 01, 2019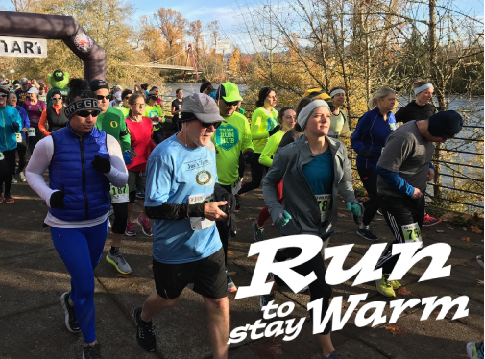 If you're looking for a fun way to burn a few extra calories before the big Thanksgiving feast and do something good for the community, we have just the thing.
The Run to Stay Warm, featuring a half-marathon, 10K, 5K and Kids' 400-meter dash, is on Sunday, Nov. 24. The event takes place at EWEB Headquarters, 500 E. 4th Ave, and the flat, scenic course along the Willamette River is accessible to all abilities.
Some exciting changes to announce for this year's event:
We are proud to announce that the Eugene Marathon is now officially the race operator of the Run to Stay Warm. Their team brings decades of race management experience that benefits participants, sponsors, and our customers.
The courses have been slightly altered due to the riverfront development project, but you will still find the courses flat and beautiful!
While race operations have changed hands, the Run to Stay Warm's mission has not. As always, a portion of every race registration will go to support EWEB's Customer Care Program, an assistance fund for individuals who are struggling to pay their utility bills.
Now in its 13th year, the race has consistently attracted more than 1,000 runners and walkers from across the country and has raised more than $250,000 for EWEB's Customer Care Program.
REGISTER
To register, visit runtostaywarm.com. This race has something for everyone, including elite and novice runners and walkers. And don't forget the free Kids' 400 meter dash (no registration necessary for Kids' race).

VOLUNTEER
Please consider helping on race weekend! Opportunities include helping with packet pick-up, finish line, kids' race, course monitoring and much more. Visit runtostaywarm.com/volunteerto sign-up.