Related News
Related News

Rate Setting Process is Customer Driven and Community Focused

EWEB's Board of Commissioners is considering rate changes to help maintain reliable utility services and fund critical investments in Eugene's water and electric infrastructure.

Find Out More

National Preparedness Month: Older adults take control in 1, 2, 3

We know older adults can face greater risks when it comes to the extreme weather events and emergencies we face, especially if they are living alone, are low-income, have a disability, depend on electricity for medical needs, or live in rural areas.

Find Out More

Women in STEM: EWEB Engineer Laura Ohman's second degree brings a lifetime of benefits

EWEB Engineer Laura Ohman shares how getting her second degree was one of the most difficult and rewarding things she's ever accomplished.

Find Out More

Bethel neighbors boost emergency preparedness during Emergency Water Station event

Staff gave out about 300 emergency water containers to enthusiastic community members eager to learn more about the water station.

Find Out More

How does EWEB recover the costs of serving customers

Here's an overview of the three primary ways EWEB recovers the costs of serving customers and generates the funds needed to keep the power on and the water flowing.

Find Out More
Restoration Plan for March 2, 2019
March 02, 2019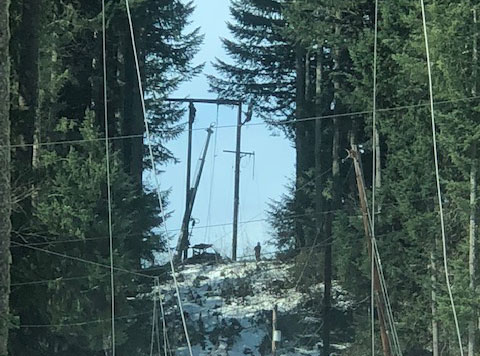 As of 8 a.m. Saturday morning, there are just under 2,000 customers who remain without power. This includes a little over 200 in the Eugene area, and about 1,700 in the Mckenzie River Valley.
Most of the remaining Eugene-area outages are single homes, which can be extremely labor intensive, particulalry those with accessibility issues, such as backyard service lines with no access for bucket trucks. We will continue to work until every customer is restored.
We have 13 line crews working in the following areas. While we do not have current estimated times of restoration, be assured crews are working diligently to get your power back on.
Upriver:
Holden Creek Ln
Bridge & Madrona St
Deerhorn & Partridge Ln
Cedar Flats Rd
Boscage Ln
McKenzie Hwy in the Cedar Flat area
Thurston Rd
West end of Camp Creek Rd (two crews)
Eugene area:

86000 block of College View Rd
2600 block of Agate St
Scattered single home outages
RESTORATIONS COMPLETED SUNDAY, MARCH 2
Leaburg Dr
2100 block of Bristol St
1700 block of 35th Pl