Related News
Related News

EWEB Recognized with Excellence in Communications Awards from American Public Power Association

We are proud to have been recognized with two Excellence in Public Power Communications Awards for 2023 from the American Public Power Association (APPA).

Find Out More

Let's talk turkey. If a disaster strikes, is your family ready?

Many of us avoid discussing politics over the dinner table in the spirit of family peace and harmony. But here's a topic that can bring everyone together: emergency preparedness.

Find Out More

EWEB now offering a Smart Thermostat rebate program

EWEB is excited to announce a new residential rebate program to provide electric customers with free or greatly discounted Smart Thermostats to customers whose primary source of heating is from an electric forced-air furnace or heat pump.

Find Out More

Your EWEB Rates at Work: Investing Today for a Resilient Tomorrow

For more than a century, EWEB has planned, built, and maintained the systems that deliver safe, reliable, and environmentally responsible power and water to Eugene homes and businesses.

Find Out More

Have an energy efficient and water conscious holiday season

The holiday season is officially upon us. Whether you are celebrating a special holiday or just sharing a meal with close friends and family, hosting can cause some unexpected energy and water usage increases – resulting in a higher utility bill. We've prepared some tips on how you can save energy and water this holiday season.

Find Out More
Northwest Youth Corps Help with Holiday Farm Fire Restoration
November 09, 2020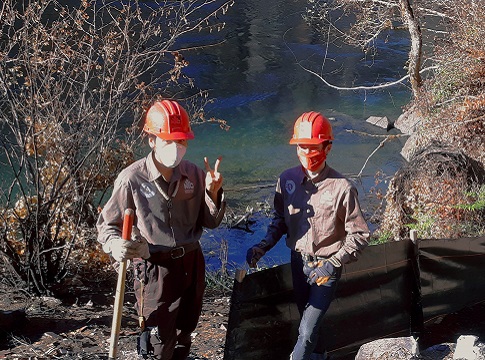 Crews of young people are helping to protect Eugene's drinking water by mitigating the impact of post-fire soil erosion along the McKenzie River.
In the aftermath of the Holiday Farm Fire, EWEB is working with our Pure Water Partners and McKenzie Valley landowners to mitigate pollutants, including sediment, and prevent them from entering the river, impacting water quality and complicating drinking water treatment processes.
For the past six weeks, nearly 30 young adults from Northwest Youth Corps have worked in the fire-ravaged watershed while living in temporary campsites at EWEB's Lloyd Knox Park.
Northwest Youth Corps (NYC) is a non-profit organization that offers teenagers an education-based work experience modeled after the historic Civilian Conservation Corps of the 1930s. According to NYC Executive Director Jeff Parker, the purpose is to help youth and young adults learn, grow, and experience success.
"Our participants and leaders are grateful for the opportunity to participate in the Holiday Farm Fire recovery efforts with EWEB and the Pure Water Partners," says Jeff. "To be working in our own watershed adds even deeper importance to our conservation service work."
For young crews working in the McKenzie Valley, the primary task has been building and installing erosion control measures such as wattles and sediment fences. Wattles are rolls of fibers wrapped in netting that deflect and direct water flow while trapping sediment.
NYC crews making handmade wattles.

When installed along burned riparian areas, wattles help prevent increased sediment and fire-related compounds such as organic carbon, nutrients and metals from washing into the McKenzie River, currently Eugene's sole source of drinking water.
In just three days, NYC crews built 108 20-foot wattles.

Instead of relying on commercially available wattles which are typically filled with non-native plant materials and covered in plastic mesh, the young workers are making hand-made wattles out of jute webbing. The wattles are stuffed with willow branches harvested locally and with wood chips from trees burned in the fire.
Willow branches from Walterville Pond are used to fill the wattles and stake them in place.
"These young adults are environmentally conscious and education-driven; they want to learn," says EWEB environmental specialist Kris Stenshoel.

As part of their training, Kris tutors each crew about native plants, riparian zones and watershed ecosystems.
"We talk about EWEB's connection to the river through our hydro generation projects and our community's reliance on the McKenzie for clean drinking water, as well as threats to the watershed," he says. "The kids see themselves making a long-term impact on the health of the river and that gives them a personal connection to the work."
In addition to building willow wattles, youth crews are installing sediment fences and reseeding with native species to prevent intensely burned areas from losing topsoil with the heavy winter rains.
Since mid-October, Northwest Youth Corps has installed about 5,250 feet of wattles—that's nearly a mile!
"This recovery effort will be an important chapter in the story of the McKenzie watershed," says NYC Director Jeff Parker. "We are proud to help the healing and restoration of the land, water, and community."
Learn more about Holiday Farm Fire recovery and watershed restoration.