Related News
Related News

National Preparedness Month: Older adults take control in 1, 2, 3

We know older adults can face greater risks when it comes to the extreme weather events and emergencies we face, especially if they are living alone, are low-income, have a disability, depend on electricity for medical needs, or live in rural areas.

Find Out More

Bethel neighbors boost emergency preparedness during Emergency Water Station event

Staff gave out about 300 emergency water containers to enthusiastic community members eager to learn more about the water station.

Find Out More

Please join your neighbors in reducing energy use today

With excessive temperatures and wildfire conditions affecting power generation across the region, EWEB is encouraging customers to safely conserve power.

Find Out More

Stay cool during extreme heat events

With temperatures forecasted to reach over 100 degrees over the next several days, we've prepared some tips and tricks to help you stay cool.

Find Out More

EWEB establishes multipronged resiliency policy

Disaster recovery and prevention are being embedded in all operations and processes.

Find Out More
Preparing Your Kitchen for an Emergency
September 10, 2021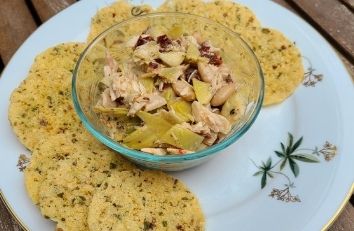 September is National Preparedness Month, and all month long EWEB is sharing how we are preparing and some guidance for how you can prepare at home. As our region experiences more extreme weather events - like wildfire, heatwaves, and winter storms - it is important for both our organization and our community members to prepare as best we can.
Stock Up on Supplies
Keeping several days of emergency food and water is an important first step in preparing your kitchen. Here are some foods that might help you prepare to cook without power for a few days:
Canned tuna, chicken, or other protein-based items
Dried fruit, nuts, and quick-cooking oats
Canned vegetables and pickles
Condiment packets: mayonnaise, ketchup, mustard, sriracha, soy sauce, etc.
Nut and seed butters
Granola and protein bars
Pre-cooked packets of rice or other grains
Canned soups and chilis
Certain equipment is good to keep on hand as well. Here are some suggested items:
Can openers
Headlamps or lanterns
Propane-fueled camp stoves
If you're feeling overwhelmed by the large list, a good way to get started is to take the Pledge to Prepare. You will get an email every month with a few suggestions to add to your list over time, as well as other tips and guidance for emergency preparedness.
Keeping Food Cold in an Outage
Any time the power goes out, keep the refrigerator and freezer doors closed as much as possible to maintain the cold temperature. The refrigerator will keep food cold for about four hours if it is unopened. A full freezer will keep the temperature for approximately 48 hours if the door remains closed. Oregon State University Extension offers these Tips for Keeping Your Freezer Frozen During Power Outages.
Making Meals
While it is easier to eat peanut butter sandwiches and canned chili during an outage, several days of that can become tiresome and demoralizing. Sometimes a little preparation and creativity can go a long way toward getting through a stressful time. Here are some easy recipes that can help satiate your hunger for a meal that can be made even when sheltering in place without electricity.
Chicken Burrito Bowls (serves 2)
1 12-ounce can chicken breast
½ cup canned salsa
1 8-ounce pouch of pre-cooked rice (can get rice already seasoned or plain)
1 15-ounce can of pinto or black beans
Lime juice (bottled) and favorite hot sauce to taste
Mix together the chicken, chiles, salsa, and corn. Strain excess liquid from the mixture and mix well. Add any additional seasonings you have on hand to taste (salt, pepper, chili powder, or oregano). Divide the rice and beans evenly into two bowls and top with the chicken mixture. Add preferred condiments and enjoy. Note: heating is optional for this meal. If you have the means you can heat each component through to enjoy it hot.
Mediterranean Tuna Salad 1 6-ounce can tuna (we like locally canned albacore)
1 can of marinated artichoke hearts
1 15-ounce can of cannellini beans
1 tsp dried parsley
1 tsp dehydrated onion flakes
Salt to taste Drain the tuna, beans, and artichoke hearts. Make sure the artichoke hearts are cut to your preferred bite size. Add all the ingredients to a bowl and mix well. Serve with crackers and cut vegetables if you have them.

Quick Soaked Oats with Pistachios and Dried Figs


For an elevated twist on breakfast, have a few luxury dried goods in your store. Pistachios and dried figs are often part of gourmet treats. Quick soaked oats are still edible and don't require overnight refrigeration. ½ cup quick cooking oats (or rolled oats if you prefer)
1 tsp brown sugar 1 Tbsp chia seeds
1 tsp cardamom powder
2 tbsp chopped pistachios
½ cup non-dairy milk of your choice Mix all ingredients in a mason jar or another container with a lid. Close the lid and let the oats soak for one hour, then enjoy!

Additional Tips
Some other things you can do to prepare your kitchen for an emergency and keep stocked with healthy foods include:
Grow an herb garden. A few plants like basil, cilantro, parsley, or chives grow well in kitchen windows.
Have a rotation of fermented foods like sauerkraut or kimchi in your fridge to add lots of flavor and nutrients that will keep a long time.
What are some of your favorite foods? How can you adapt them to make during an emergency? Let us know on our Facebook page or message our Instagram account.