Related News
Related News

National Preparedness Month: Older adults take control in 1, 2, 3

We know older adults can face greater risks when it comes to the extreme weather events and emergencies we face, especially if they are living alone, are low-income, have a disability, depend on electricity for medical needs, or live in rural areas.

Find Out More

Women in STEM: EWEB Engineer Laura Ohman's second degree brings a lifetime of benefits

EWEB Engineer Laura Ohman shares how getting her second degree was one of the most difficult and rewarding things she's ever accomplished.

Find Out More

Planning for a Future of Reliable, Affordable, Environmentally Responsible Energy

The challenges revealed by Eugene Water & Electric Board's integrated resource planning process mirror those facing the Northwest.

Find Out More

Bethel neighbors boost emergency preparedness during Emergency Water Station event

Staff gave out about 300 emergency water containers to enthusiastic community members eager to learn more about the water station.

Find Out More

EWEB's heat driven call to conserve energy yields major savings

EWEB is likely to implement similar, formalized "demand response" programs in the future.

Find Out More
Local school, Housing Agency Awarded Greenpower Grants
April 25, 2016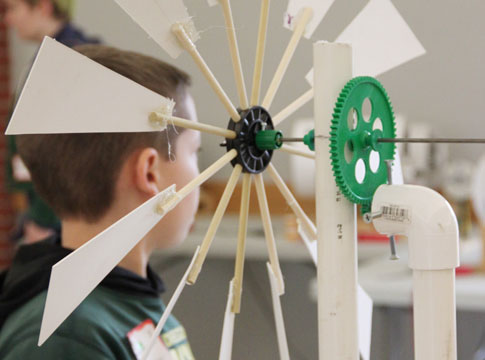 Housing and Community Services of Lane County and Buena Vista Elementary School each won a 2016 Greenpower grant of up to $50,000 from EWEB's Greenpower program. The announcement was made at BRING Recycling's Earth Day Birthday Party in April, and marks a milestone for the Greenpower grant program, which has awarded more than $1 million to local nonprofit renewable energy projects, research and education since the grants were first introduced in 2009.
HACSA will use the grant to fund its "Low Income Housing Solar Panels" project at Parkview Terrace in Eugene. The new rooftop solar panel system will help reduce costs by more than $2,500 in the first year. The system is expected to last at least 50 years and benefit more than 160 elderly and disabled residents at the facility. HACSA programs serve more than 5,000 low-income households every year.
"HACSA is so grateful for this grant because it shows the commitment of EWEB and its customers to HACSA's low-income residents," said Jacob Fox, HACSA of Lane County's executive director.
Buena Vista Elementary School of Eugene will use the grant to fund its "PV 4 BV Solar Initiative" project. This project will reduce the school's operating costs by about $630 each year and help in the advancement of its STEM (Science, Technology, Engineering and Math) curriculum, music program, physical education and Artist in Residence programs.
Students will have the opportunity to learn about the energy produced by the solar panel system through an informational display, and will have access to "real time" energy data in the classroom for experimentation, data collection and other class projects. All information regarding renewable education will be translated in Spanish to reach families who wouldn't otherwise have access to renewable energy education.
"We're honored to receive this grant and so thankful to EWEB customers and our BV parent community for making it possible," said Buena Vista Elementary School Principal Juan Cuadros. "This project is important because it allows for a real-life education experience, to connect what students do in the classroom to the outside world via the solar panels and garden - not just through books."
Since 2007, thousands of EWEB customers have chosen to support clean, renewable energy by purchasing $1.50 or $10 "blocks" of Greenpower, or voluntarily dedicating 100 percent of their energy use to Greenpower by paying an extra penny per-kilowatt-hour of consumption. The Greenpower Grant program voting period opened in mid-March for EWEB's approximately 2,200 Greenpower customers. Active Greenpower customers were eligible to vote for two grant finalists.
Read more about EWEB's Greenpower program.