Related News
Related News

National Preparedness Month: Older adults take control in 1, 2, 3

We know older adults can face greater risks when it comes to the extreme weather events and emergencies we face, especially if they are living alone, are low-income, have a disability, depend on electricity for medical needs, or live in rural areas.

Find Out More

Bethel neighbors boost emergency preparedness during Emergency Water Station event

Staff gave out about 300 emergency water containers to enthusiastic community members eager to learn more about the water station.

Find Out More

How does EWEB recover the costs of serving customers

Here's an overview of the three primary ways EWEB recovers the costs of serving customers and generates the funds needed to keep the power on and the water flowing.

Find Out More

Stay cool during extreme heat events

With temperatures forecasted to reach over 100 degrees over the next several days, we've prepared some tips and tricks to help you stay cool.

Find Out More

Women in STEM: Meet our servant leader and maker of tough decisions

Karen Kelley, Chief Operations Officer at EWEB, describes herself as a "servant leader," offering support and mentoring to four division managers at EWEB.

Find Out More
Imagine a Day Without Water
October 19, 2021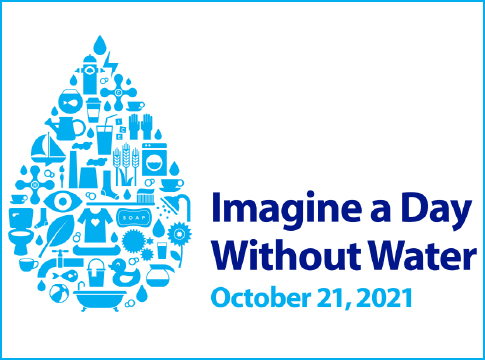 For most people, the systems that bring us this valuable resource are generally reliable and remain out of sight, out of mind. We don't often think about what we can't see, like the infrastructure behind our taps: the treatment facility, water pipelines, pumps, and storage reservoirs. But these complex construction and engineering projects reliably deliver clean water to our homes and businesses 24 hours a day, 365 days a year.

Imagine a Day Without Water is a national day of action on October 21 and raises awareness about the value of water. For its seventh annual day, we encourage you to about the systems that deliver water to your homes and businesses each day.
According to the 2021 Annual Value of Water Index, a majority of Americans across all demographics support a strong investment in our nation's water infrastructure. Most people agree that reliable water service and supply are crucial.
We're investing in water
Long-term planning and cost-effective investments in water reliability have served EWEB customers well for more than 100 years. As critical infrastructure ages and new challenges arise, continued investment is needed to ensure uninterrupted delivery of the high-quality drinking water that supports Eugene's quality of life and a healthy local economy.
EWEB maintains 800 miles of pipes, 22 water tanks, dozens of pump stations, and other critical facilities. Our source-to-tap drinking water programs are helping keep those systems prepared and adaptable to future changes. We have invested more than $30 million upgrading and expanding our Hayden Bridge Water Filtration Plant. We are replacing water mains, improving pump stations, building new storage tanks, planning for a second filtration plant on the Willamette River, and developing neighborhood emergency water stations.
As we continue to care for critical infrastructure, we're also investing in the source of our drinking water-the McKenzie River and its surrounding watershed. In the aftermath of the Holiday Farm Fire, we're working with partners in the McKenzie valley to revegetate burned properties, encourage smart rebuilding away from the river, and acquire destroyed properties for conservation management. Our goal is to build back stronger and with greater resilience to future natural disasters. To help fund that investment, EWEB's elected Board of Commissioners recently approved a temporary Watershed Recovery Fee assessed to all residential and commercial customers for five years beginning July 2021. The community-funded watershed recovery and restoration initiative will supplement EWEB's McKenzie River Source Protection Program to safeguard drinking water for Eugene residents.
And we are planning and budgeting for a new water treatment plant on the Willamette River. Having a single source of drinking water for nearly 200,000 people is a significant vulnerability for our community and EWEB is currently the only utility of our size in Oregon to have a single source of supply. The Willamette River will augment our McKenzie River supply and ensure we can provide water if an emergency were to disrupt the Hayden Bridge Filtration Plant or McKenzie River. To learn more about our planning for a second treatment plant on the Willamette, view this Oct. 5, 2021 presentation to EWEB's Board of Commissioner (begins at 3:12:52).
When you imagine a day without water this year, think about how central water is to your daily life. Investing in our water infrastructure will ensure you have a fresh glass of water each morning, firefighters can accomplish their life-saving work, hospitals can stay safe and sanitary, and our local economy can thrive.