Related News
Related News

Let's talk turkey. If a disaster strikes, is your family ready?

Many of us avoid discussing politics over the dinner table in the spirit of family peace and harmony. But here's a topic that can bring everyone together: emergency preparedness.

Find Out More

EWEB's water infrastructure projects designed for reliability during major disasters

As communities nationwide Imagine a Day Without Water, EWEB strives to ensure such a day never happens.

Find Out More

Fall is the perfect time to prepare for winter storm season

Winter is coming, which increases the likelihood of storm-related power outages. It's important to be prepared, and there are simple actions you can take right now.

Find Out More

EWEB programs reflect community values

EWEB is here to serve our customer-owners and provides programs that reflect the values of our community.

Find Out More

EWEB Prepares for the Annual Observance of "Imagine a Day Without Water"

Water infrastructure is essential, invaluable, and in need of continuous investment. Read how EWEB's Staff and Board of Commissioners are working to safeguard Eugene's water future.

Find Out More
EWEB to open second emergency water station on May 11
May 02, 2019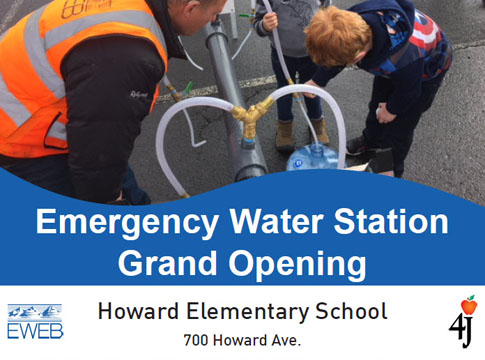 The Eugene Water & Electric Board in partnership with the Eugene 4J School District will open a new microgrid-powered emergency water station in the River Road area on May 11.
The station, at Howard Elementary School, includes a newly installed well, pumping station, emergency water distribution equipment and a 1-megawatt battery energy storage system powered by a large photovoltaic array.
The grand opening will be held from 10:30 a.m. to 1 p.m. May 11 at the school, 700 Howard Ave. Those attending will receive a free 3-gallon emergency water storage container, see how the station works, learn more about the microgrid system and find out how our community is preparing for emergencies.
The photovoltaic system, which was installed on the school's roof during construction, is capable of charging the battery storage system during an electric outage. This redundancy means that there is back-up power when the sun is not shining to keep the school and the water distribution site in operation during emergency situations.
A natural or human-caused disaster could result in a disruption to our water treatment plant or water distribution system. Possible emergencies range from earthquake or chemical spill into the McKenzie River or even a harmful algae bloom.
An earthquake, for example, could cause ruptures in the water distribution system that could take days, weeks or months to repair. An immediate and reliable supply of water following a disaster is vital to public health, safety and our economy.
The opening of the Howard facility will mark the second emergency water station EWEB has established as part of its Resiliency Initiative. The first station, at Prairie Mountain School in the Bethel area, went online in October 2018. EWEB plans at least three more stations in other areas of Eugene over the next few years.
Each site will be built to provide water from a new or existing well, or a portable water treatment system, and include a source of standby power such as a generator in case the electric distribution system is compromised.
By working with schools and other community partners, EWEB are able to establish these emergency water distribution sites in a reasonable timeframe and within our existing budget. This approach helps minimize the financial impacts to our customers while taking solid steps to prepare for disasters or emergencies.
The battery storage system at Howard Elementary is partially funded through a $295,000 grant from the U.S. Department of Energy's Office of Electricity and the Oregon Department of Energy. The opening event on May 11 will allow area neighbors to fill water containers and become more familiar with the water distribution equipment under non-emergency conditions.