Related News
Related News

National Preparedness Month: Older adults take control in 1, 2, 3

We know older adults can face greater risks when it comes to the extreme weather events and emergencies we face, especially if they are living alone, are low-income, have a disability, depend on electricity for medical needs, or live in rural areas.

Find Out More

Women in STEM: EWEB Engineer Laura Ohman's second degree brings a lifetime of benefits

EWEB Engineer Laura Ohman shares how getting her second degree was one of the most difficult and rewarding things she's ever accomplished.

Find Out More

Bethel neighbors boost emergency preparedness during Emergency Water Station event

Staff gave out about 300 emergency water containers to enthusiastic community members eager to learn more about the water station.

Find Out More

Please join your neighbors in reducing energy use today

With excessive temperatures and wildfire conditions affecting power generation across the region, EWEB is encouraging customers to safely conserve power.

Find Out More

Stay cool during extreme heat events

With temperatures forecasted to reach over 100 degrees over the next several days, we've prepared some tips and tricks to help you stay cool.

Find Out More
EWEB teaches Lane County staff and first responders how to stay safe around power lines
September 29, 2022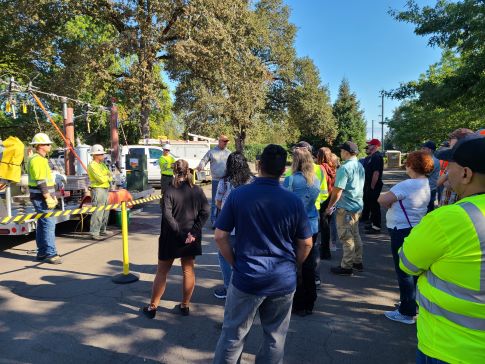 "I came here today for a refresher on power line safety," said Tim Cogswell with Lane County's waste management department. Cogswell was one of many attendees who gathered in the Lane County customer service parking lot on Tuesday for an EWEB electric safety demonstration.
EWEB's electric safety trailer is an interactive tool for the public to learn how to react in a potentially dangerous situation. It demonstrates electric voltage conducted from wires and transformer boxes and helps educate public workers, first responders, and community members about what to look for, what to do and how to be safe when it comes to electricity.
"I drive around the county all day, so there's a chance I'll come across a downed line and knowing what to do and what not to do is important for my safety," said Cogswell.
During three demonstrations over the course of the day, our EWEB crew showed onlookers what would happen if they touched an energized power line or an exposed green transformer box. The crew used an insulated pole, called a "hot stick" to contact objects such as an irrigation pipe, rope and a ladder with a live wire—scenarios that first responders and other public safety workers often encounter in real life. The result was a guttural, vibrating buzz, followed by ignition, sparks, flames, and electrocution.
The fiery visual helped drive home the importance of following a few crucial safety rules around overhead power lines, including:
When you are on a job site, remember to ALWAYS LOOK UP. It could save your life and the lives of those around you.
Use a spotter when working with ladders, pipe, and aerial equipment to ensure they remain a safe distance away from lines when fully extended.
Never touch a downed power line or anything it may be touching. Treat every downed line as though it were energized. Even a line that is not sparking or sizzling may be energized.
The crew also demonstrated what happens when a person back feeds a generator by plugging it into a house wall outlet connected to a main circuit. This causes a reverse flow of electricity into the electric panel, creating extreme danger for homeowners and utility personnel.
"Think of electricity as always looking for the path of least resistance," said Brian Read, EWEB line crew leader. "Electricity is confined by insulators but it's always looking for a way out, so if you make contact, it's going to conduct through the body's nervous system to find its way to the ground."
Attendees had the opportunity to ask questions:
Q: Should I try to lift a power line off the ground if I think I have a pole that doesn't conduct electricity?
A: No. You're risking your life if you attempt to move a downed line. You should stay at least 50 feet away and call EWEB and 911 immediately.
Q: What should I do if I'm in an accident and there's a line near or on top of my vehicle?
A: You should stay in your vehicle and call EWEB and 911 immediately. Do not try to exit your vehicle if there is no immediate threat. If the line is touching your vehicle and happens to start a fire, you may be forced to jump from your vehicle, making sure to land with your feet together and not touching the vehicle after landing.
Additionally, if you are in an accident involving a green box, do not exit your car. They are high voltage transformers or switching boxes, that can conduct electricity easily if they are damaged.
Q: What is the best way to physically move away from an energized source?
A: It's called the bunny hop. By putting your feet close together and hopping away from a power line you will decrease the chance of electrocution by step potential. You can think of it like when you throw a rock in water, the further out the ripples are from the spot the rock entered, the lower the voltage will be. You don't want to take a large step and find the difference in voltage in the ground.
Q: How do line crews know when a line is energized?
A: We are very deliberate and precise in how we approach and test energization. There is a multi-step process which is to identify, isolate, test and then ground the line we are going to be working on. It is not possible for anyone to look at a downed power line and know that it is de-energized.
Safety is our number one priority at EWEB and that's why we are dedicated to educating the public about electric safety. EWEB appreciates the opportunity to educate our first responders, hopefully keeping them safe when they are out working to keep everyone else safe. Aaron Morgan and Jason Burgess with Oregon Department of Transportation's Incident Response team appreciated EWEB's demonstration:
"It was extremely valuable for us to be here today. Seeing with our own eyes what could happen if we are near an energized line was a good reminder that even though we're trained to act immediately, we need to pause and call EWEB right away if there's a chance that electricity is involved, for our own safety and for the safety of others," said Morgan.
"Look up and live. That's what I learned here today. Is there electricity involved? That's one of the first things I'll be assessing when I'm responding," said Burgess.
Thank you, Lane County, for hosting EWEB and our electric safety demonstration trailer. We are looking forward to more opportunities to engage with the community of Eugene using this interactive and educational tool.
Thank you, EWEB lineworkers, for providing valuable information at these demonstrations: Kevin Barkdull, Joe Lay, Sean Martin, Brian Read, and Jesse Stiner.
If you see a downed power line, move away and call EWEB's outage hotline at 1-844-484-2300.