Related News
Related News

Rate Setting Process is Customer Driven and Community Focused

EWEB's Board of Commissioners is considering rate changes to help maintain reliable utility services and fund critical investments in Eugene's water and electric infrastructure.

Find Out More

Women in STEM: EWEB Engineer Laura Ohman's second degree brings a lifetime of benefits

EWEB Engineer Laura Ohman shares how getting her second degree was one of the most difficult and rewarding things she's ever accomplished.

Find Out More

Planning for a Future of Reliable, Affordable, Environmentally Responsible Energy

The challenges revealed by Eugene Water & Electric Board's integrated resource planning process mirror those facing the Northwest.

Find Out More

Bethel neighbors boost emergency preparedness during Emergency Water Station event

Staff gave out about 300 emergency water containers to enthusiastic community members eager to learn more about the water station.

Find Out More

EWEB's heat driven call to conserve energy yields major savings

EWEB is likely to implement similar, formalized "demand response" programs in the future.

Find Out More
EWEB begins 2023 budget and rate-setting process
July 14, 2022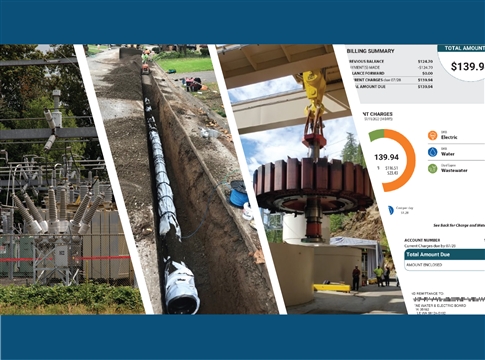 "With over $1 billion in assets at EWEB, how do we know we're working on the right ones?"
That's how EWEB Chief Operating Officer Karen Kelley opened her presentation to the utility's elected commissioners at the July 5, 2022 public meeting.
"The answer is planning, and lots of it," said Karen.
The July meeting kicked off a multi-month planning process that will culminate in December with adoption of a 2023 budget and rates for electric and water customers.
In 2022, residential rates increased for the first time in five years. Looking ahead, a variety of long-term critical projects coupled with short-term supply chain and inflationary pressures and a dynamic power supply market are likely to impact the prices customers pay for water and power.
"We're starting to see more dynamics in the power supply market driven by climate change, evolving government regulations, and rapidly advancing technology," said EWEB General Manager Frank Lawson. EWEB buys and sells power on the wholesale market, and those power prices are increasing and becoming more volatile. "They vary by minute, by hour and pretty significantly by season," said Frank.
The cost for EWEB to purchase power and bring it to Eugene represents a significant portion of the electric utility's budget—almost 40 cents of every dollar in your EWEB bill goes to purchased power costs. We generate around 20 percent of the community's power using EWEB-owned or co-owned resources, and the remaining 80 percent comes from Bonneville Power Administration, other power purchase agreements, and wholesale market purchases. In the 2022 budget, purchased power costs were $21 million higher than the previous year.
Following purchased power costs, the second largest utility expense is electric and water infrastructure investments, which comprise around 20 percent of your total utility bill.
EWEB plans for major infrastructure investments through our Capital Improvement Plan (CIP), a 10-year plan for rehabilitating, replacing, or installing new infrastructure and spreading the costs over many years to avoid having to raise rates significantly in any one year to pay for those improvements.
"The 10-year capital plans are updated annually to meet our customer expectations on the stewardship of their resources," said Karen Kelley. "We must consider employee and public safety, consequence of equipment failure, probability of failure, current condition and operability, anticipated future condition, customer demand and load both present and future, regulations and compliance, and life cycle costs, all while leaving flexibility to address emergent needs and much, much more."
To meet the current and future needs of our community and ensure reliable service, some of the projects we are planning and budgeting for include:
Building a water treatment plant on the Willamette River to improve the resiliency of our water supply
Upgrading the Carmen-Smith Hydroelectric Project

Implementing wildfire safety and prevention programs

Upgrading and diversifying water storage tanks

Rebuilding substations to increase capacity and improve reliability

Investing in updated meter technology investments to reduce costs and improve service
Addressing structural vulnerabilities of the Leaburg Canal
Although these are long-term, multi-year projects, the planning work is impacted by current economic conditions. Early projections for next year's budget indicate $102 million in spending for capital projects, an increase of about $18 million over 2022 projections, primarily due to inflation and supply chain impacts.
The July meeting was the first in a series of public meetings during which your elected Board of Commissioners will provide feedback and direction on spending for major capital projects and potential price changes for customers.
Summer through fall, EWEB staff use direction from the Board to develop a proposed spending budget for the following year. With the exception of funding for large infrastructure projects, EWEB aims to keep rate increases in line with general inflation.
The final budget is adopted in December following public hearings during which our customer-owners are invited to provide testimony on any proposed adjustments. The first public hearing on the upcoming budget is scheduled for Oct. 4, 2022.