Related News
Related News

Rate Setting Process is Customer Driven and Community Focused

EWEB's Board of Commissioners is considering rate changes to help maintain reliable utility services and fund critical investments in Eugene's water and electric infrastructure.

Find Out More

National Preparedness Month: Older adults take control in 1, 2, 3

We know older adults can face greater risks when it comes to the extreme weather events and emergencies we face, especially if they are living alone, are low-income, have a disability, depend on electricity for medical needs, or live in rural areas.

Find Out More

Women in STEM: EWEB Engineer Laura Ohman's second degree brings a lifetime of benefits

EWEB Engineer Laura Ohman shares how getting her second degree was one of the most difficult and rewarding things she's ever accomplished.

Find Out More

Planning for a Future of Reliable, Affordable, Environmentally Responsible Energy

The challenges revealed by Eugene Water & Electric Board's integrated resource planning process mirror those facing the Northwest.

Find Out More

Bethel neighbors boost emergency preparedness during Emergency Water Station event

Staff gave out about 300 emergency water containers to enthusiastic community members eager to learn more about the water station.

Find Out More
EWEB awards nearly $125,000 total to local organizations to promote electric mobility
February 17, 2023 • Ashley Cissna, EWEB Communications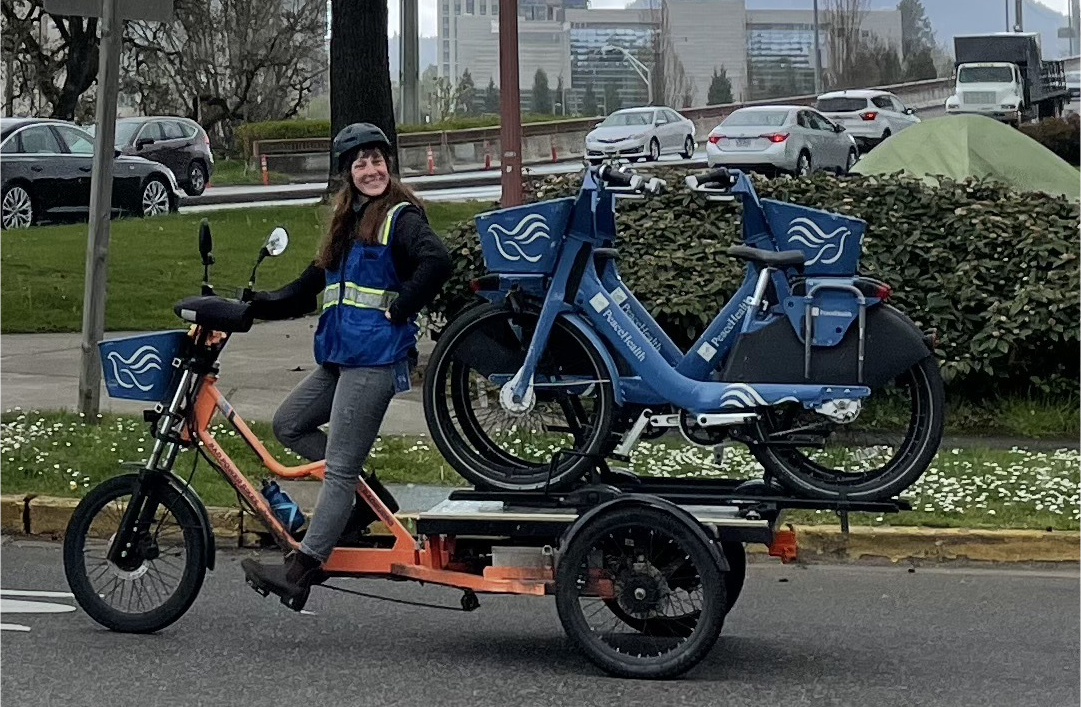 EWEB has awarded local organizations nearly $125,000 total to promote electric mobility and reduce community carbon emissions.
The organizations are receiving up to $25,000 each. Five have received funding so far, and the funding for a sixth is contingent. The organizations range from local educational institutions to a government agency to the provider of a bike sharing program in Eugene.
The grants are part of EWEB's Green Options programs, which include a set of programs called Move Green that encourage and incentivize EWEB customers to adopt electric modes of transportation. Move Green programs include rebates for electric bikes and electric vehicle (EV) chargers, as well as an electric car sharing program.
The electric mobility community grant program is open to nonprofits, academic institutions, public organizations and others that are pursuing electric mobility projects. Funding for this program is in part made possible by the Oregon Clean Fuels Program, which is administered by the Oregon Department of Environmental Quality (DEQ). This allows EWEB to promote clean electric transportation without impacting customer's rates.
"Electric mobility continues to have barriers in accessibility, especially for traditionally underserved populations. Through our community grants, we are able to put money in the hands of community agencies that are experts in the populations they serve and can help bridge this accessibility gap," said Juan Serpa Muñoz, an EWEB business line manager who oversees EWEB's electric mobility programs.
EWEB began accepting applications for the electric mobility grants on Earth Day, April 22, 2022. Awards are up to $25,000 each and are intended to cover up to 100% of the eligible costs of studying, planning, promoting or deploying electric transportation technology and projects. EWEB gave special consideration to projects that would help promote electric mobility in underserved communities, including areas without ample access to public charging.
EWEB received 10 proposals, all of which were carefully considered by the grant committee and scored on project feasibility, use of funds, innovation and analysis, social equity and their education, environmental and community benefits. Originally, EWEB planned to award five grants, however, due to the availability of credits from the Clean Fuels Program and the added value these projects brought to the community, EWEB made the decision to award grants to six proposals.
The six grants were awarded to Lane County Public Works, University of Oregon, Shift Community Cycles, Lane Community College, Cascadia Mobility and McKenzie School District. Five have been paid out so far, amounting to nearly $125,000
EWEB will begin accepting applications for the 2023 Electric Mobility Grants in April. If you are interested in applying for a grant and would like more information, sign up for notifications at eweb.org/electric-mobility-grants.
More information on each organization awarded a grant is below.
Lane County Public Works
Lane County Fleet Services, part of Lane County Public Works, is using their electric mobility grant to upgrade old electric infrastructure and install multiple Level-2 electric vehicle charging stations at the Lane County Public Service Building parking structure located on Pearl Street.
"Developing a robust network of electric vehicle charging stations to support the adoption of EVs is one of the County's top priorities related to the reduction of carbon emissions," says Senior Public Works Analyst Nathan Mitchell-Hooks. "This project exists as part of Fleet's efforts to electrify County-owned facilities in order to make EV charging more accessible for staff and the public."
Shift Community Cycles
The grant awarded to Shift Community Cycles will be used to develop an e-cargo bike loan and educational program. The program will demonstrate how community members and organizations can move away from reliance on automobiles and utilize electric cargo bikes and trailers for hauling equipment and deliveries, and for setting up community events. Shift aims to have partnerships and events lined up this spring to demonstrate the program.
"We will connect primarily with low-income communities. We hope to expand and show continued support for many years to come!" says Jim Nevada, president and founder of Shift Community Cycles
Lane Community College
Lane Community College is using the grant to install a dual pedestal Level 2 electric vehicle charging station, located in parking lot N on the northeast section of the main campus on E. 30th Avenue. It will be available free of charge to any member of Lane Community College Community and visitors. Installation is scheduled for Spring 2023 and should be completed and in operation by the summer of 2023.
"Thanks to this grant award, Lane Community College, will be able to continue our ongoing work to advance and promote electric mobility," says Luis Maggiori, sustainability coordinator at Lane Community College.
University of Oregon
The University of Oregon will use their grant to launch their own e-bike lending program. Their e-bike program will be overseen by the university's Transportation Services department and is designed for students and employees who are curious about e-bikes and want to try one for up to four weeks before deciding whether to purchase one.
"The University of Oregon's Transportation Services is grateful to have been awarded a $25,000 grant from EWEB to help launch our first-ever e-bike lending program," says David Reesor, the director of Transportation Services. "We are striving to create a more sustainable future and this program is one way to help make this happen."
Cascadia Mobility
Cascadia Mobility, the nonprofit operator of Eugene's bike-share program PeaceHealth Rides, submitted a proposal to use the funds to purchase electric pedal assist tricycles that will be used to support the bike share fleet maintenance and repair. These electric trikes will be outfitted to comfortably handle daily commercial use. They will have safety lighting, improved gear ratios, extra batteries and custom decking to haul equipment and the ride-share bikes. The new electric tricycles are expected to be put into service in Spring 2023.
"Efficiency and innovation are key to our work supporting and promoting active transportation in Eugene," says Cascadia Mobility CEO Brodie Hylton. "EWEB's electric mobility community grant will help Cascadia Mobility demonstrate what can be done with a trike, while reducing our need to use an internal combustion van. It's only natural that a bike share should be operated emissions-free. Thank you EWEB!"
McKenzie School District
The McKenzie School District serves approximately 170 students grades Kindergarten through 12th grade in rural east Lane County. The school district has a high number of students, experiencing poverty, and approximately one quarter of students lost their homes in the Holiday Farm Fire in September 2020.
The McKenzie School District submitted their proposal to help fund the purchase of two new electric school buses, to replace older diesel-powered vehicles. The school district is focused on eliminating gaps in opportunities and barriers to success, including geographical location. The new school buses will provide approximately 115 students cleaner, quieter rides to and from school along two bus routes. The new buses will also benefit those living along the routes, since they will be exposed to fewer emissions and less vehicle noise.
Major funding for the school buses is being provided by the EPA Clean School Bus Rebates Program. EWEB's grant is contingent on McKenzie School District receiving the EPA grant. Currently, they are still working on securing that funding. McKenzie School District plans to have the new buses in operation on daily routes by the 2023-2024 school year.
Related Programs
Upgrading from gas vehicles to electric cars and bikes can reduce air pollution and create a better, cleaner environment. In addition to the cost savings you'll get from electric transportation, you may qualify for EWEB rebates and state and federal tax credits.
EWEB's Lead Green programs can help you put your money where your values are. Customer investments are used to finance projects that benefit the environment.