Related News
Related News

EWEB programs reflect community values

EWEB is here to serve our customer-owners and provides programs that reflect the values of our community.

Find Out More

National Preparedness Month: Older adults take control in 1, 2, 3

We know older adults can face greater risks when it comes to the extreme weather events and emergencies we face, especially if they are living alone, are low-income, have a disability, depend on electricity for medical needs, or live in rural areas.

Find Out More

Bethel neighbors boost emergency preparedness during Emergency Water Station event

Staff gave out about 300 emergency water containers to enthusiastic community members eager to learn more about the water station.

Find Out More

How does EWEB recover the costs of serving customers

Here's an overview of the three primary ways EWEB recovers the costs of serving customers and generates the funds needed to keep the power on and the water flowing.

Find Out More

Stay cool during extreme heat events

With temperatures forecasted to reach over 100 degrees over the next several days, we've prepared some tips and tricks to help you stay cool.

Find Out More
Enhanced Monitoring Key to a Healthy Watershed
February 11, 2021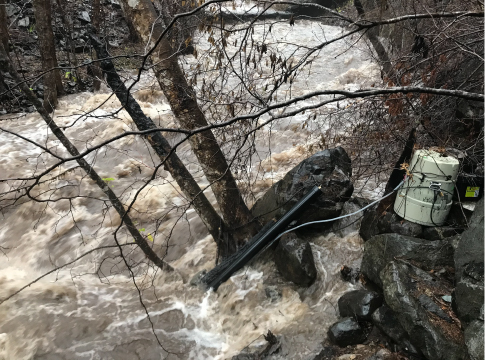 On the heels of the Holiday Farm Fire, we quickly got to work with partner agencies and research organizations to identify post-fire threats to water quality in the McKenzie River. Additional water quality sensors have been placed in the main stem of the river, as well as in several creeks and tributaries. The widespread damage from the fire will likely threaten water quality for years, and these sensors are essential tools to the on-going recovery effort.
Real-time monitoring, especially during major storm events, provides important data about the location, amount, and types of contaminants flushed into the river. This information can act as an early warning system to adjust treatment practices at EWEB's filtration plant downstream and help prioritize watershed restoration activities. Learn more about watershed monitoring.
During the past few heavy rain events, monitors detected turbidity levels that were significantly higher than typical for the McKenzie River—a result of sediment from the surrounding land washing into the river. Analytical results from the expanded real-time monitoring network also showed an increase in nutrients, metals, and organic compounds coming from the burned and eroded landscape above the river.
Fortunately, these impacts seem to be short-lived and the water quality issues experienced so far are well within the capacity of EWEB's treatment plant to handle. Read more about your drinking water quality.
Protecting water quality requires a "source to tap" mentality, not simply relying on treatment measures to mitigate problems. The Holiday Farm Fire disaster presents an opportunity to rebuild smarter and strategically scale up source protection activities with an eye towards a more resilient watershed.
EWEB and our partners are looking for opportunities to implement large-scale floodplain restoration in key areas to mitigate flooding, erosion, and water quality impacts from severely burned landscapes. We also hope to work with area residents to replant some 100 acres of high priority riparian areas this winter.
If you are a landowner in the fire area and would like a site assessment from one of our team members, please visit the Pure Water Partners website.
Learn more about watershed restoration activities and protecting our water supply.