Related News
Related News

National Preparedness Month: Older adults take control in 1, 2, 3

We know older adults can face greater risks when it comes to the extreme weather events and emergencies we face, especially if they are living alone, are low-income, have a disability, depend on electricity for medical needs, or live in rural areas.

Find Out More

Women in STEM: EWEB Engineer Laura Ohman's second degree brings a lifetime of benefits

EWEB Engineer Laura Ohman shares how getting her second degree was one of the most difficult and rewarding things she's ever accomplished.

Find Out More

Planning for a Future of Reliable, Affordable, Environmentally Responsible Energy

The challenges revealed by Eugene Water & Electric Board's integrated resource planning process mirror those facing the Northwest.

Find Out More

Bethel neighbors boost emergency preparedness during Emergency Water Station event

Staff gave out about 300 emergency water containers to enthusiastic community members eager to learn more about the water station.

Find Out More

EWEB's heat driven call to conserve energy yields major savings

EWEB is likely to implement similar, formalized "demand response" programs in the future.

Find Out More
Three Local Nonprofits Win 2018 EWEB Greenpower Grants
May 16, 2018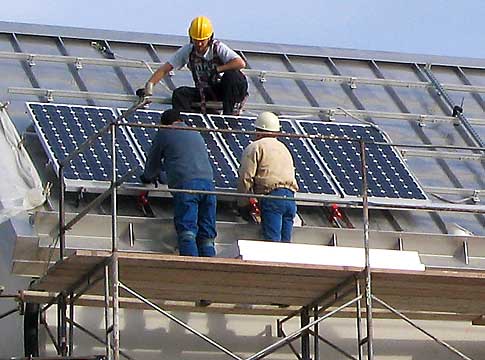 Friends of Trees, the Eugene Science Center and the Pearl Buck Center each won 2018 Greenpower Grants worth up to $50,000 from EWEB's Greenpower Program.
The three community nonprofit organizations proposed high-impact projects that will increase the use of renewable energy sources or reduce/offset the community's carbon footprint. The winners were chosen by a vote of EWEB Greenpower customers. Grant program funding allowed for three winners this year.
Friends of Trees will engage volunteers in community tree planting events to plant and care for 600 trees and native shrubs along major roadways in areas of west Eugene. The West Eugene Living Roadways Project will contribute to cooling and carbon sequestration.
"By using native plants from our region, the trees will be able to live long and survive on their own with limited inputs, providing ecological services, benefits to pollinators, as well as beauty," said Erik Burke, Eugene director for Friends of Trees. "The benefits these trees provide will help all members of our community by cooling and cleaning Eugene's air and water and removing carbon from the air."
Eugene Science Center's project will not only produce solar energy, but also educate its many visitors about the science and technology that makes renewable energy possible. The Greenpower Grant will allow the science center to install a 32.5-kilowatt photovoltaic array coupled with lithium ion batteries, as well as create outreach education kits and solar energy exhibits demonstrating solar technology and the amount of solar energy produced onsite.
"We're very excited to showcase solar technology at the science center, and educate our community about the technology and benefits of renewable energy," said Tim Scott, executive director of the Eugene Science Center. "Energy savings from this array will also allow us to allocate more funds toward our educational programs, which helps us have a greater impact on our community."
Pearl Buck Center's project will build a 24-kilovolt solar array at its West First Street facility that will reduce carbon dioxide emissions and lower operating costs. The system will also provide educational content for preschoolers, adult program participants and the community at large through a wall-mounted video screen and a live solar web page.
St. Vincent de Paul of Lane County originally won a Greenpower Grant for its proposal to build a photovoltaic system on the agency's planned Youth House for Boys. The organization in August 2018 had to table plans to build the group home on leased land and search for an alternative location. Because the project is now indefinitely delayed, EWEB awarded that Greenpower Grant to Pearl Buck Center, which was the next runner up in the vote tally.
Read the five project finalist summaries here. The Greenpower Grant program voting period opened on April 30 for our approximately 2,000 Greenpower customers. Active Greenpower customers were eligible to vote for their top two proposals.
Funds for the grants come from voluntary Greenpower customer donations designated for reinvestment in local renewable projects and programs. Since 2007, thousands of customers have chosen to support clean, renewable energy by purchasing EWEB Greenpower. They buy $1.50 or $10 "blocks" of Greenpower, or voluntarily dedicate 100 percent of their energy use to Greenpower by paying an extra penny per kilowatt-hour of consumption.

We developed the Greenpower Grant Program to help reinvest some of these funds into renewable energy projects, education or those that help offset the community's carbon footprint. The annual grants are open to tax-exempt 501(c)(3) nonprofit organizations, academic institutions or government and other public agencies. Since 2009, the program has awarded more than $1 million to 19 local nonprofit projects.