Related News
Related News

National Preparedness Month: Older adults take control in 1, 2, 3

We know older adults can face greater risks when it comes to the extreme weather events and emergencies we face, especially if they are living alone, are low-income, have a disability, depend on electricity for medical needs, or live in rural areas.

Find Out More

Women in STEM: EWEB Engineer Laura Ohman's second degree brings a lifetime of benefits

EWEB Engineer Laura Ohman shares how getting her second degree was one of the most difficult and rewarding things she's ever accomplished.

Find Out More

Planning for a Future of Reliable, Affordable, Environmentally Responsible Energy

The challenges revealed by Eugene Water & Electric Board's integrated resource planning process mirror those facing the Northwest.

Find Out More

Bethel neighbors boost emergency preparedness during Emergency Water Station event

Staff gave out about 300 emergency water containers to enthusiastic community members eager to learn more about the water station.

Find Out More

EWEB's heat driven call to conserve energy yields major savings

EWEB is likely to implement similar, formalized "demand response" programs in the future.

Find Out More
2018 Greenpower Grant Finalists Announced
April 12, 2018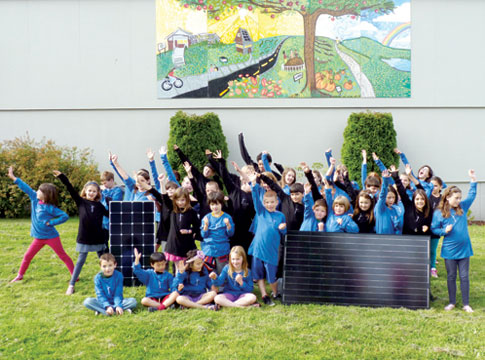 Five Eugene organizations have made the final cut for consideration for 2018 Greenpower Grants worth up to $50,000 each to fund high-impact projects that increase the use of renewable energy sources, the adoption of emerging technologies, or reduce/offset our community's carbon footprint.
The winning projects will be chosen by a majority vote of EWEB Greenpower customers. Online voting starts April 30 and will continue through May 11.
In order to vote for your favorite project proposals, customers must register for the Greenpower Program no later than April 27.
Greenpower Grant finalists for 2018 include:
Eugene Science Center
Eugene Waldorf School
Friends of Trees
Pearl Buck Center
St. Vincent de Paul of Lane County
Read the five project summaries here. Winners will be announced on May 14.
Funds for the grants come from voluntary Greenpower customer donations designated for reinvestment in local renewable projects and programs. Since 2007, thousands of EWEB customers have chosen to support clean, renewable energy by purchasing EWEB Greenpower. They buy $1.50 or $10 "blocks" of Greenpower, or voluntarily dedicate 100 percent of their energy use to Greenpower by paying an extra penny per kilowatt-hour of consumption.

EWEB developed the Greenpower Grant Program to help reinvest some of these funds into renewable energy projects, education or those that help offset the community's carbon footprint. The annual grants are open to tax-exempt 501(c)(3) nonprofit organizations, academic institutions or government and other public agencies.
Since 2009, the program has awarded more than $1.1 million to local nonprofit projects.
Past grant recipients include Buena Vista Elementary School and Housing and Community Services of Lane County.