Drinking water questions?
Call us at (541) 685-7861, or send us an email.
We make good water even better
We are fortunate to have a high-quality drinking water source, the McKenzie River. Water treatment begins with management of this great resource. We partner with local conservation organizations to protect and maintain our healthy watershed. Visit our Source Water Protection Program to learn more about how we help protect the McKenzie River watershed.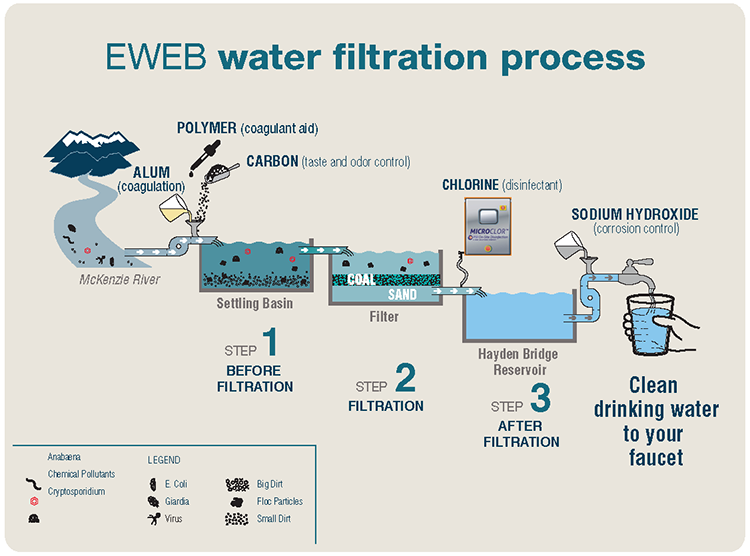 Water filtration process
Even with a high-quality drinking water source we still have to filter and disinfect the river water to deliver safe drinking water to your tap. At the Hayden Bridge Water Filtration Plant we use a three step process to turn water from the McKenzie River into safe drinking water.

1) Before filtration
Sometimes we add carbon to improve taste and odor.
Raw water from the river can be cloudy due to soil particles floating in the water. We add alum to bind the soil particles into clumps. The clumps then fall to the bottom of the settling basin, and the water flows into the filters.
2) Filtration
Following settling, the water travels through a multi-layered filtration process that removes any remaining clumps and small particles.
3) After filtration
We add chlorine to maintain the purity of the water throughout our distribution system.
We adjust pH with sodium hydroxide to reduce corrosion in our distribution system and in your home or business's plumbing system.