Related News
Related News

National Preparedness Month: Older adults take control in 1, 2, 3

We know older adults can face greater risks when it comes to the extreme weather events and emergencies we face, especially if they are living alone, are low-income, have a disability, depend on electricity for medical needs, or live in rural areas.

Find Out More

Women in STEM: EWEB Engineer Laura Ohman's second degree brings a lifetime of benefits

EWEB Engineer Laura Ohman shares how getting her second degree was one of the most difficult and rewarding things she's ever accomplished.

Find Out More

Bethel neighbors boost emergency preparedness during Emergency Water Station event

Staff gave out about 300 emergency water containers to enthusiastic community members eager to learn more about the water station.

Find Out More

Stay cool during extreme heat events

With temperatures forecasted to reach over 100 degrees over the next several days, we've prepared some tips and tricks to help you stay cool.

Find Out More

Women in STEM: Meet our servant leader and maker of tough decisions

Karen Kelley, Chief Operations Officer at EWEB, describes herself as a "servant leader," offering support and mentoring to four division managers at EWEB.

Find Out More
Utility Career Fair
November 01, 2016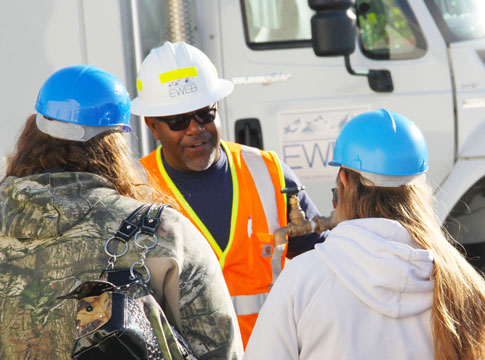 More than 500 high school students from across Lane County experienced a day-in-the-life of construction, road maintenance and utility trade workers during the Construction and Utilities Career Day on in mid-October.
Sponsored by regional utilities that deliver electricity and water to customers in Lane County, as well as area construction and equipment companies, the Oregon Department of Transportation, Northwest College of Construction, and the Lane ESD along with the Construction & Engineering Revitalization Grant, the event allowed high school students an opportunity to try a variety of hands-on activities ranging from operating heavy equipment and climbing poles to welding and plumbing. The students also learned about advances in surveying that are integrated in 3-D road design and automated machine guidance systems.
Utilities and construction companies, along public agencies like ODOT, are experiencing a large number of job openings in trades-related fields as older employees retire at an increasing rate. The October career day is part of the industry's efforts to encourage younger people to seek careers in well-paying trades jobs.
Students from more than 20 high schools were able to operate heavy equipment, learned how to repair water mains, climbed power poles and learned about job opportunities and training that include:
Electrician
Line technician
Plumber
Carpenter
Substation technician
CAD drafter
Sheet metal worker
Solar panel installer
Water mechanic
Equipment operator
Welder
Construction craft laborer
Customer service representative
Energy management specialist
Water conservationist
Concrete cutter
Utility locator