Related News
Related News

National Preparedness Month: Older adults take control in 1, 2, 3

We know older adults can face greater risks when it comes to the extreme weather events and emergencies we face, especially if they are living alone, are low-income, have a disability, depend on electricity for medical needs, or live in rural areas.

Find Out More

Bethel neighbors boost emergency preparedness during Emergency Water Station event

Staff gave out about 300 emergency water containers to enthusiastic community members eager to learn more about the water station.

Find Out More

How does EWEB recover the costs of serving customers

Here's an overview of the three primary ways EWEB recovers the costs of serving customers and generates the funds needed to keep the power on and the water flowing.

Find Out More

Stay cool during extreme heat events

With temperatures forecasted to reach over 100 degrees over the next several days, we've prepared some tips and tricks to help you stay cool.

Find Out More

Women in STEM: Meet our servant leader and maker of tough decisions

Karen Kelley, Chief Operations Officer at EWEB, describes herself as a "servant leader," offering support and mentoring to four division managers at EWEB.

Find Out More
Tanker Crash Highlights Importance of Emergency Preparedness and Response Efforts
June 14, 2017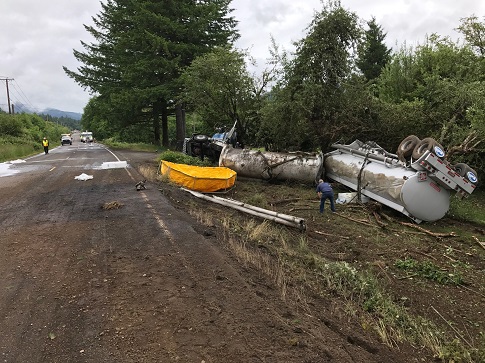 A fuel tanker was carrying approximately 11,000 gallons of gasoline when it crashed along the McKenzie Highway one mile east of Leaburg on June 13, 2017. When emergency crews arrived on the scene, the tanker and trailer were found leaking and fuel was on the roadway.
The crash occurred just 1,500 feet from the McKenzie River, the sole source of drinking water for 200,000 people in Eugene and surrounding areas. The McKenzie also provides critical habitat for a number of endangered or threatened species including spring Chinook salmon, bull trout, spotted owl, Oregon chub, osprey and western pond turtle.
Fortunately, the spilled fuel did not enter into any tributaries of the McKenzie River, or the river itself. There was no surface water connecting the crash site to the waterways. However, the tanker released approximately 1,700 gallons of gasoline, contaminating soil and potentially impacting ground water. The initial response was carried out by McKenzie Fire & Rescue, Eugene-Springfield Fire Department's Hazardous Materials Team and Oregon Department of Transportation, until hazardous materials spill contractors and the Oregon Department of Environmental Quality were able to take over the clean-up effort, which is expected to last for several days.
Emergency response is an integral part of our drinking water source protection program
For more than 17 years, we have maintained an ambitious drinking water source protection program to protect the McKenzie and maintain the high water quality you enjoy. A critical component of the program is watershed emergency response.
While there are a number of potential hazards that could impact our water supply, chemical spills from transportation accidents is one of the highest threats to the McKenzie watershed. Hundreds of trucks travel the McKenzie Highway every day, many of them carrying hazardous materials such as gasoline, pesticides, and oil.
We want to be proactive in responding to a hazardous spill or other emergencies that could threaten McKenzie River water quality, so we have worked with dozens of federal, state and local agencies to implement the McKenzie Watershed Emergency Response System (MWERS). Incident commanders use MWERS to quickly gain access to crucial information, equipment and trained people, making their response more effective.
"A reoccurring theme associated with major spills or releases is that there is confusion and uncertainty for first responders in the initial 6 to 12 hours following an event, and it is during those early hours when the opportunity to contain the spill may still exist," says EWEB's environmental supervisor Karl Morgenstern. "The McKenzie Watershed Emergency Response System provides first responders with the tools they need to avoid confusion and effectively stabilize chemical spills as quickly as possible."
EWEB and dozens of partner agencies conduct annual MWERS training exercises to help prepare for chemical spills and other events that could impact the McKenzie watershed and our community's drinking water. As a result of conducting annual interagency emergency response drills on the river, EWEB was notified within minutes of the crash and worked closely with initial responders familiar with each other. Additional resources were offered if needed from the Army Corps of Engineers, City of Springfield, Springfield Utility Board and others who are part of MWERS.
We're investing in long-term reliability of our drinking water system
In additional to chemical spills, a number of other emergencies could result in a water supply shortage: earthquake, drought, forest fire, severe flood, or a system or facility failure.
In case of an emergency our community is going to need access to clean water for drinking, public health and safety, so we're making strategic investments in key components of the water system. Our Water Reliability Initiative includes several infrastructure reliability projects over the next 10 years, including replacing water mains, upgrading interties, upgrading or building new reservoirs, adding back-up electrical power to pump stations, expanding the Hayden Bridge Filtration Plant and developing alternative water sources.
We also are working in partnership with neighboring water utilities, local public agencies, the Oregon Pacific Chapter of the American Red Cross and other emergency responders to assure a well-coordinated disaster response effort.
Emergency preparedness is a shared responsibility
We are taking steps to prepare for an emergency in our community, whether human-caused or a natural disaster. You can do your part by building an emergency supply kit for your household.
If a natural or man-made disaster occurs, you can rest easier knowing you are better prepared with a household emergency kit. Putting together your own kit is simple and easy, and it begins with having on hand a minimum of one gallon of water per person per day for drinking and basic sanitation. While the American Red Cross recommends storing at least a three-day supply of water, larger disasters such as a possible Cascadia Subduction Zone earthquake may require water for 14 days or more.
Learn more about building an emergency kit and where to get water during an emergency.