Related News
Related News

National Preparedness Month: Older adults take control in 1, 2, 3

We know older adults can face greater risks when it comes to the extreme weather events and emergencies we face, especially if they are living alone, are low-income, have a disability, depend on electricity for medical needs, or live in rural areas.

Find Out More

Bethel neighbors boost emergency preparedness during Emergency Water Station event

Staff gave out about 300 emergency water containers to enthusiastic community members eager to learn more about the water station.

Find Out More

How does EWEB recover the costs of serving customers

Here's an overview of the three primary ways EWEB recovers the costs of serving customers and generates the funds needed to keep the power on and the water flowing.

Find Out More

Stay cool during extreme heat events

With temperatures forecasted to reach over 100 degrees over the next several days, we've prepared some tips and tricks to help you stay cool.

Find Out More

Women in STEM: Meet our servant leader and maker of tough decisions

Karen Kelley, Chief Operations Officer at EWEB, describes herself as a "servant leader," offering support and mentoring to four division managers at EWEB.

Find Out More
Second Source Work Underway
January 20, 2017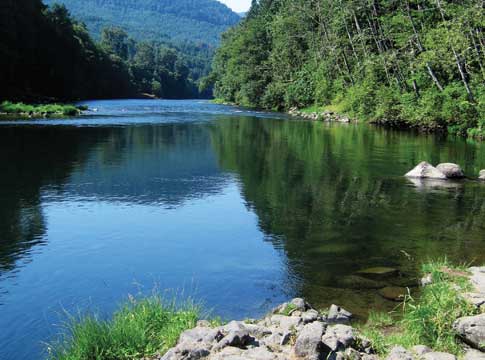 Everyday, Eugene residents turn on their taps to draw clean and delicious drinking water. Water is indispensable at homes, vital to public safety and crucial to our local economy.

EWEB relies on the beautiful McKenzie River as its sole source of water, and the Hayden Bridge Filtration Plant to deliver safe drinking water nearly 200,000 area residents. But there are just a few days of water available if a natural or human-caused disaster disrupts our supply or filtration plant operations. That is why work is underway to tap into a secondary source of water and build a small, modern filtration plant on the Upper Willamette River.
Commitment to quality
The new intake site, purchased in 2015, is located below the confluence of the Coast and Middle Forks of the Willamette River. Just upstream, thousands of acres of land are managed for natural habitat and recreation by The Nature Conservancy, Friends of Buford Park and others. Completed and ongoing restoration work has direct benefits to water quality, making great water even better for all that depend on a healthy river.
The new filtration plant, which will be located west of the intake site, will use modern technology to ensure that drinking water quality is the same, or better, than what is delivered from Hayden Bridge today. EWEB will continue to rely on the McKenzie River as its primary source of drinking water due to the larger plant capacity and available water rights. However, building a second, smaller treatment plant on the Willamette provides for resilient operations should a natural or other disaster strike our community.
Preliminary design work is underway on the filtration plant, and that work will continue through 2018. EWEB plans to begin construction of the new facility in 2019, and have it operational in 2022.
Ensuring an affordable and reliable water supply
A diverse water supply is the biggest step in improving water system reliability in case of an emergency. Seismic upgrades to critical facilities like reservoirs and pump stations are also planned. EWEB a few years ago created a special reserve fund to help pay for this community investment. Careful financial planning to balance water reliability projects and affordability is a priority so that over time, we are better prepared for the unexpected, and resilient to challenges that come our way.