Related News
Related News

EWEB 2023 year in review

In 2023, EWEB invested in our community with grants, rebates and an array of other programs and measures aimed at fulfilling our core values of safety, reliability, affordability, environmental responsibility and community/culture.

Find Out More

EWEB Recognized with Excellence in Communications Awards from American Public Power Association

We are proud to have been recognized with two Excellence in Public Power Communications Awards for 2023 from the American Public Power Association (APPA).

Find Out More

Let's talk turkey. If a disaster strikes, is your family ready?

Many of us avoid discussing politics over the dinner table in the spirit of family peace and harmony. But here's a topic that can bring everyone together: emergency preparedness.

Find Out More

EWEB To Hold First of Two Public Hearings on Proposed 2024 Budget and Prices

At the Nov. 7 Board of Commissioners meeting, EWEB staff will present a proposed budget that includes rate increases necessary to support utility operations and make needed infrastructure investments.

Find Out More

Public Power Week Poster Contest Winners 2023

The results are in! View the winning posters from EWEB's 2023 Public Power Week Poster Contest.

Find Out More
Run to Stay Warm Helps Families Beat the Cold
November 13, 2017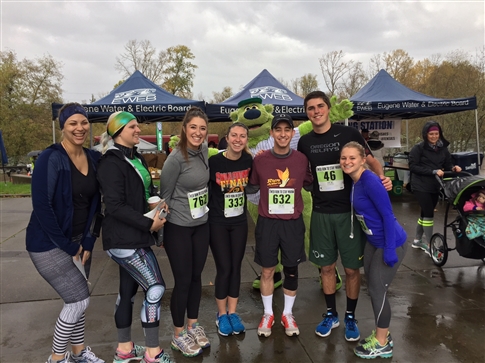 Picture this: It's the Sunday before Thanksgiving. It's a crisp, fall morning in Eugene and you are about to start a run on the bike paths along the Willamette River...Prefontaine's old stomping grounds. You're ready to burn off a few extra calories before the big feast in a few days. And the best part is, you're doing something good for the community.
Doesn't get any better!
The Eugene Water & Electric Board's Run to Stay Warm, featuring a half-marathon, 10K, 5K and Kids' 400-meter dash, is on Sunday, Nov. 19. What started in 2007 as a small community fundraiser has grown into one of Eugene's finest running events. Last year the race attracted more than 1,400 runners, spectators and volunteers from across the country and raised more than $47,000.
All proceeds from the event benefit limited-income customers who are struggling to pay their utility bills and stay warm through the winter months. In its first 10 years, the event has raised more than $212,000 for EWEB's Customer Care Program.
Run to Stay Warm is made possible by the generous donations of community sponsors. Nearly two dozen local businesses and organizations sponsor the event.
One runner's feedback pretty well sums up the Run to Stay Warm: "I love that this is a community event to support Customer Care. This is my second time participating and I've had two great experiences. The volunteers all have great attitudes and are super supportive and helpful. Thanks for a great race!"
The fun starts at EWEB at 8:30 a.m. on Sunday, with the kids' 400 meter dash, led by Sluggo, the Eugene Emerald's mascot. The kids race is free for all children 10 and under. The half-marathon begins at 9 a.m., and the 5K and 10K events start at 9:15 a.m.
The flat, scenic course begins and ends at EWEB's River Edge Plaza in downtown Eugene.
Prizes will be awarded to the top three overall male and female finishers and to age division winners in each race. Everyone completing the half-marathon will receive a finisher medal. Prizes will be awarded for the Kids' 400 meter dash.
Register online, or swing by EWEB's Customer Service Center at 500 E. Fourth Ave. to sign up. Day of race registration will not be available; however participants will be able to pick up packets on race day.
Following the race, the Tap and Growler, 207 E. 5th Ave., will host an after-party for Run to Stay Warm participants. Come and join us for a bowl of soup and a beverage.
Find more information and registration at https://www.runtostaywarm.org/ and follow the event on Facebook.