Related News
Related News

Rate Setting Process is Customer Driven and Community Focused

EWEB's Board of Commissioners is considering rate changes to help maintain reliable utility services and fund critical investments in Eugene's water and electric infrastructure.

Find Out More

National Preparedness Month: Older adults take control in 1, 2, 3

We know older adults can face greater risks when it comes to the extreme weather events and emergencies we face, especially if they are living alone, are low-income, have a disability, depend on electricity for medical needs, or live in rural areas.

Find Out More

Women in STEM: EWEB Engineer Laura Ohman's second degree brings a lifetime of benefits

EWEB Engineer Laura Ohman shares how getting her second degree was one of the most difficult and rewarding things she's ever accomplished.

Find Out More

Bethel neighbors boost emergency preparedness during Emergency Water Station event

Staff gave out about 300 emergency water containers to enthusiastic community members eager to learn more about the water station.

Find Out More

How does EWEB recover the costs of serving customers

Here's an overview of the three primary ways EWEB recovers the costs of serving customers and generates the funds needed to keep the power on and the water flowing.

Find Out More
Primary Election Includes Four Candidates for EWEB Commissioner
May 15, 2020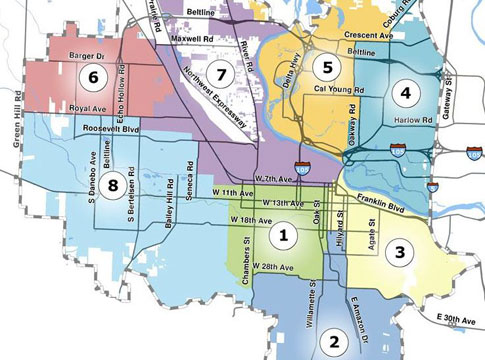 Oregon primary elections are next Tuesday, May 19 and ballots include four candidates for three seats on the EWEB Board of Commissioners.
Matt McRae is running for Wards 1 and 8, to replace Board President Steve Mital, who has decided to relinquish his seat after serving as an EWEB Commissioner since 2013.
Two candidates are competing to replace Commissioner Dick Helgeson in Wards 2 and 3—John Barofsky and Vince McClellan. Commissioner Helgeson has served on the Board since 2012, and has decided not to run for re-election.
Finally, Commissioner Sonya Carlson is seeking to retain her seat representing Wards 6 and 7. Commissioner Carlson has served on the Board since 2017.
Primary voting results will determine which candidates appear on the General Election ballot in November. If any one candidate receives more than 50 percent of the votes in the primary, that candidate's name will be the only one appearing on the November ballot. If no candidate receives a majority of the votes cast for that office in the primary, the two candidates receiving the highest number of votes will be listed on the November ballot.
The citizens of Eugene elect five commissioners to four-year terms on the EWEB Board. Commissioners dedicate their service to the utility as volunteers without pay, and are responsible for overall governance of the utility. They set policies, approve the annual budget and make changes to electric and water prices when necessary.
Four commissioners represent specific wards of the city; the fifth member is elected "at large" by all city voters.
Electors may vote for any candidate seeking to represent them. If you're not sure which ward you live in, check out this online tool—enter your address and find your Ward and Neighborhood Association.
To learn more about the candidates, check out the Voter's Pamphlet.