Related News
Related News

EWEB 2023 year in review

In 2023, EWEB invested in our community with grants, rebates and an array of other programs and measures aimed at fulfilling our core values of safety, reliability, affordability, environmental responsibility and community/culture.

Find Out More

EWEB Recognized with Excellence in Communications Awards from American Public Power Association

We are proud to have been recognized with two Excellence in Public Power Communications Awards for 2023 from the American Public Power Association (APPA).

Find Out More

Let's talk turkey. If a disaster strikes, is your family ready?

Many of us avoid discussing politics over the dinner table in the spirit of family peace and harmony. But here's a topic that can bring everyone together: emergency preparedness.

Find Out More

EWEB To Hold First of Two Public Hearings on Proposed 2024 Budget and Prices

At the Nov. 7 Board of Commissioners meeting, EWEB staff will present a proposed budget that includes rate increases necessary to support utility operations and make needed infrastructure investments.

Find Out More

Public Power Week Poster Contest Winners 2023

The results are in! View the winning posters from EWEB's 2023 Public Power Week Poster Contest.

Find Out More
Powered by People Like Jess
January 23, 2020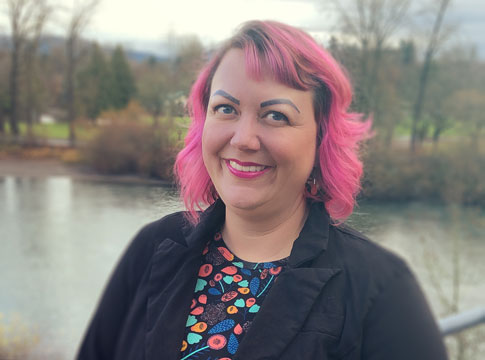 Jess interviewed with EWEB on Halloween, and there couldn't have been a more perfect day to make it clear it was a great next step in her career.
"I interviewed for a senior office assistant position with residential energy management. I had a zombie on the interview panel and had my skills test with a mummy," says Jess. "And I thought, this is the place for me."
Jess was coming off of a rewarding, but stressful job as office manager with Lane County animal control and knew she needed the right mix of feeling like she was showing up for her community, but also able to show up for herself-as herself.
"I have some anxiety," says Jess. "There were a lot of great adoption stories with Lane County, but it was also a really challenging job for me. I had to take leave, and ultimately decided I couldn't go back. You might not want to share that part of the story."
Jess pauses, and then reconsiders. "No. Actually, share it. People should know that you can manage anxiety and be professional in the workplace. We need to talk about that kind of stuff more. You can also have pink hair," she laughs.
And that's Jess. In her current position, Jess works with a number of teams including customer service, billing operations, advanced meter services, continuous improvement and the diversity team, and she does so as 100%-authentic-this-is-me Jess.
"I like showing up for other people, making decisions that make sense and have our customer-owners in mind," says Jess. "I also believe happy workers are more efficient, effective and provide better service. There's room for hard work and fun."
Jess brings a lot to the table, and for that we are grateful.
Thank you Jess for your role in providing customers with vital services 24 hours a day, 7 days a week, 365 days a year.