Related News
Related News

National Preparedness Month: Older adults take control in 1, 2, 3

We know older adults can face greater risks when it comes to the extreme weather events and emergencies we face, especially if they are living alone, are low-income, have a disability, depend on electricity for medical needs, or live in rural areas.

Find Out More

Bethel neighbors boost emergency preparedness during Emergency Water Station event

Staff gave out about 300 emergency water containers to enthusiastic community members eager to learn more about the water station.

Find Out More

How does EWEB recover the costs of serving customers

Here's an overview of the three primary ways EWEB recovers the costs of serving customers and generates the funds needed to keep the power on and the water flowing.

Find Out More

Stay cool during extreme heat events

With temperatures forecasted to reach over 100 degrees over the next several days, we've prepared some tips and tricks to help you stay cool.

Find Out More

Women in STEM: Meet our servant leader and maker of tough decisions

Karen Kelley, Chief Operations Officer at EWEB, describes herself as a "servant leader," offering support and mentoring to four division managers at EWEB.

Find Out More
New water treatment trailer improves EWEB's emergency response abilities
March 22, 2023 • EWEB Communications Team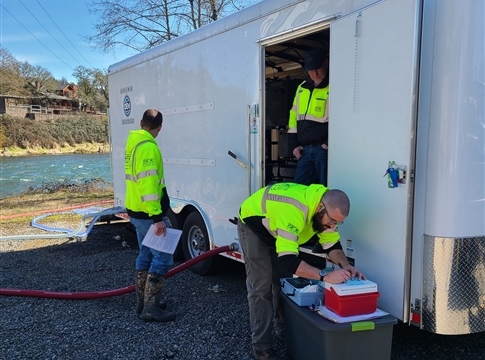 The Eugene Water & Electric Board (EWEB) is expanding its capacity to provide water to customers in case of an emergency.
The newest addition is a state-of-the-art water treatment trailer paid for using a grant from the State Preparedness and Incident Response Program (SPIRE).
An example of a large-scale disaster would be the subduction zone earthquake which could affect the McKenzie River, disrupt the water treatment plant or damage the 800 miles of distribution pipes that delivers water to Eugene homes and businesses.
This week, EWEB tested the new water trailer, which uses reverse osmosis – a process that uses high pressure to push water through a membrane – to filter out contaminants.
"Staff will begin water quality testing and training of additional staff with a mind towards improving procedures and equipment, if necessary," said Hayden Bridge Water Treatment Plant Supervisor Ray Leipold.
EWEB has one other water treatment trailer and three mobile water distribution trailers. The treatment trailers function as drinking water treatment plants on wheels in case an emergency takes EWEB's Hayden Bridge Treatment Plant offline. These trailers can park at almost any water source and can treat up to 144,000 gallons of fresh water per day. These mobile treatment systems are self-contained and deployable to support Eugene or another regional utility in need.
Permanent emergency water stations
In the past few years, EWEB also has built permanent emergency water stations that will be available if a disaster strikes. Unlike the water treatment trailer, these stations are permanently located at sites throughout Eugene and they provide and distribute untreated groundwater to customers, who will then need to disinfect the water before using it.
EWEB inaugurated two of these permanent emergency water stations last year – one at the Lane County Event Center and another at the Sheldon Community Center. EWEB is in the planning and design stage of building two additional water stations near Churchill High School and near Roosevelt Middle School.
At these permanent stations, underground wells extend more than 100 feet below the surface. Water is pumped up from underground and distributed via pipes and nozzles, where people can fill up jugs of water. The stations are designed to provide each person with two gallons of untreated water per day.