Related News
Related News

EWEB 2023 year in review

In 2023, EWEB invested in our community with grants, rebates and an array of other programs and measures aimed at fulfilling our core values of safety, reliability, affordability, environmental responsibility and community/culture.

Find Out More

EWEB Recognized with Excellence in Communications Awards from American Public Power Association

We are proud to have been recognized with two Excellence in Public Power Communications Awards for 2023 from the American Public Power Association (APPA).

Find Out More

Let's talk turkey. If a disaster strikes, is your family ready?

Many of us avoid discussing politics over the dinner table in the spirit of family peace and harmony. But here's a topic that can bring everyone together: emergency preparedness.

Find Out More

EWEB To Hold First of Two Public Hearings on Proposed 2024 Budget and Prices

At the Nov. 7 Board of Commissioners meeting, EWEB staff will present a proposed budget that includes rate increases necessary to support utility operations and make needed infrastructure investments.

Find Out More

EWEB now offering a Smart Thermostat rebate program

EWEB is excited to announce a new residential rebate program to provide electric customers with free or greatly discounted Smart Thermostats to customers whose primary source of heating is from an electric forced-air furnace or heat pump.

Find Out More
Improving McKenzie River Fish Habitat
September 13, 2017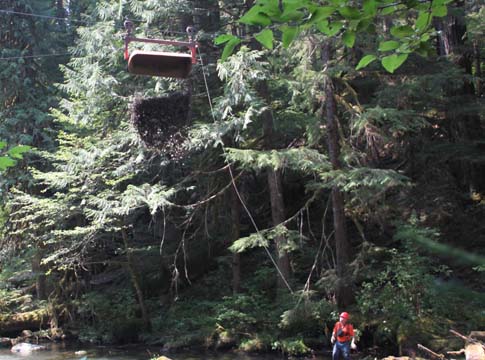 High water and storms have scoured away the gravel and small rock that bull trout like to use to lay their eggs in an area of the McKenzie River below Blue Pool.
Our environmental specialists used a novel approach to transport approximately 300 yards of gravel to the river. The closest dirt road to the spawning habitat is about 500 feet from the river. Using a modified logging yarder and cables, along with a custom-designed transport bin, we were able to enhance and improve the spawning area during a one-week period in August.
Check out this video for an insider's look at the operation.