Related News
Related News

Rate Setting Process is Customer Driven and Community Focused

EWEB's Board of Commissioners is considering rate changes to help maintain reliable utility services and fund critical investments in Eugene's water and electric infrastructure.

Find Out More

National Preparedness Month: Older adults take control in 1, 2, 3

We know older adults can face greater risks when it comes to the extreme weather events and emergencies we face, especially if they are living alone, are low-income, have a disability, depend on electricity for medical needs, or live in rural areas.

Find Out More

Bethel neighbors boost emergency preparedness during Emergency Water Station event

Staff gave out about 300 emergency water containers to enthusiastic community members eager to learn more about the water station.

Find Out More

How does EWEB recover the costs of serving customers

Here's an overview of the three primary ways EWEB recovers the costs of serving customers and generates the funds needed to keep the power on and the water flowing.

Find Out More

Stay cool during extreme heat events

With temperatures forecasted to reach over 100 degrees over the next several days, we've prepared some tips and tricks to help you stay cool.

Find Out More
FEMA provides $3.5 million to EWEB to help with ice storm recovery costs
May 30, 2017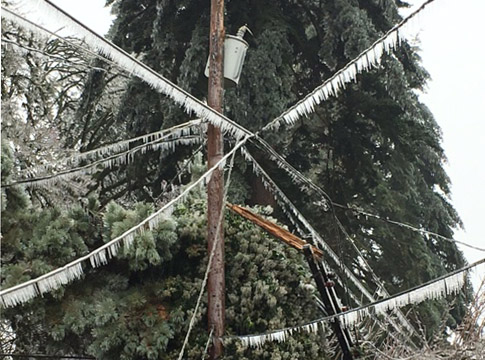 The Federal Emergency Management Agency awarded $3.5 million to EWEB in late May to help offset the financial costs of the devastating ice storm that struck Eugene on Dec. 15, 2016.

The ice storm was among the most severe faced by EWEB and our customers over the 106-year history of the utility. The trees and wires brought down by the ice, along with damage to poles, transformers and other infrastructure, affected approximately 22,000 customers.
We spent approximately $4.7 million restoring service to customers and making repairs to our electric transmission and distribution system from Dec. 15 through Dec. 24. The FEMA grant of $3.5 million covers about 75 percent of our costs.
We maintain a $2 million operating reserve to cover unanticipated costs. We covered the destruction caused by the December ice storm with working cash that had accumulated throughout the year.
The $3.5 million from FEMA will go back into the working cash fund. We will absorb the $1.2 million not covered by the FEMA grant without raising electricity prices - customers have not, and will not, incur any additional costs resulting from the storm and the recovery efforts.
We did not increase residential electricity prices in 2017. In addition to the $1.5 million EWEB budgets for low-income assistance each year, we added another $100,000 following the ice storm to help customers cover bills due to the prolonged cold snap.
"The December ice storm was devastating for EWEB and our customers in many ways. From a financial perspective, this was the largest restoration effort in EWEB's 106-year history," said Susan Fahey, EWEB's chief financial officer. "The FEMA grant will help our customer-owners, who already endured extensive and prolonged power outages, avoid further financial impacts."
There were more than 1,600 tree incidents affecting EWEB infrastructure during the ice storm and its aftermath. City-wide, there were more than 3,200 trees removed or pruned due to storm damage. The ice also caused significant damage to streets and private property, including homes and vehicles As the ice storm hit, our emergency managers began calling in outside electric repair crews to help with restoration.
In addition to the five EWEB crews, 24 crews from other utilities and private contractors helped restore service. EWEB and the outside crews repaired 135 linear miles of wire, 185 poles or cross arms and replaced 44 transformers.
Learn more about what to do if your power goes out.