Related News
Related News

EWEB 2023 year in review

In 2023, EWEB invested in our community with grants, rebates and an array of other programs and measures aimed at fulfilling our core values of safety, reliability, affordability, environmental responsibility and community/culture.

Find Out More

EWEB Recognized with Excellence in Communications Awards from American Public Power Association

We are proud to have been recognized with two Excellence in Public Power Communications Awards for 2023 from the American Public Power Association (APPA).

Find Out More

Let's talk turkey. If a disaster strikes, is your family ready?

Many of us avoid discussing politics over the dinner table in the spirit of family peace and harmony. But here's a topic that can bring everyone together: emergency preparedness.

Find Out More

EWEB To Hold First of Two Public Hearings on Proposed 2024 Budget and Prices

At the Nov. 7 Board of Commissioners meeting, EWEB staff will present a proposed budget that includes rate increases necessary to support utility operations and make needed infrastructure investments.

Find Out More

Public Power Week Poster Contest Winners 2023

The results are in! View the winning posters from EWEB's 2023 Public Power Week Poster Contest.

Find Out More
EWEB to host 12th annual Run to Stay Warm fundraiser
November 16, 2018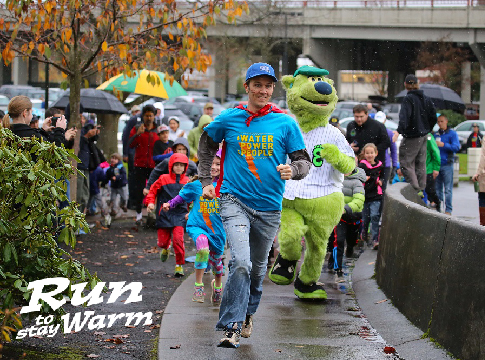 If you're looking for a fun way to burn a few extra calories before the big Thanksgiving feast and do something good for the community, we have just the thing.
Eugene Water & Electric Board's Run to Stay Warm, featuring a half-marathon, 10K, 5K and Kids' 400-meter dash, is on Sunday, Nov. 18. The event takes place at EWEB Headquarters, 500 E. 4th Ave, and the flat, scenic course along the Willamette River is accessible to all abilities.
Now in its 12th year, the race has consistently attracted more than 1,000 runners and walkers from across the country and has raised more than $230,000 for EWEB's Customer Care Program, a utility bill assistance fund for limited income individuals.
EWEB budgets approximately $1.5 million annually for Customer Care, but Zulema Duarte, who has coordinated the utility's assistance program for more than nine years, says the need is much greater than what EWEB is able to meet.
"There are lots of folks in our community living paycheck-to-paycheck, and when winter heating bills go up, many of those people struggle to make ends meet," said Zulema. "Receiving help from EWEB's Customer Care Program can make a big difference."
The program provides a $200 bill credit to qualifying EWEB customers, and helps more than 4,000 households every year.
All proceeds from Run to Stay Warm go to EWEB's Customer Care Program. Race registration is open until 10 p.m. Saturday, Nov. 17 at runtostaywarm.org.
Your registration includes:
Race bib with RFID timing chip for accurate results
Pacers and course fuel (half marathon) provided by RunHub Northwest
After-party at The Tap & Growler just a block from the finish line
Local food - Check out the Franz Bakery Grilled Cheese Truck after the race and enjoy a hot bowl of soup at the after-party
Coffee and hot chocolate from Full City Coffee Roasters
Free post-race beverage (soda for minors and soda or beer for those 21+)
Awards for age group winners
Medal for half marathon finishers
Volunteers keeping the course safe and fun!
Events kick-off at 8:30 a.m. on Nov. 18, the Sunday before Thanksgiving, with a free Kids' 400- meter dash, led by Sluggo of the Eugene Emeralds.
The Run to Stay Warm is supported by more than a dozen local business and organizations, including:
Gold Sponsors:
Silver Sponsors: