Drinking water questions?
Call us at (541) 685-7861, or send us an email.
How we prevent lead in our drinking water system
All of us care about our family's health and well-being. Elevated levels of lead can cause serious health problems, and pregnant women and young children are especially vulnerable. For decades, we have tested our water for lead. This testing shows that there is no lead in the water that enters the distribution piping. We also adjust the pH of the water to reduce corrosion in our pipe systems and to help prevent lead from leaching out of old household plumbing fixtures.
Service Line Inventory requirements
The Oregon Health Authority recently adopted revisions to the Lead and Copper Rule that include a requirement for public water systems to conduct inventories of water service lines and to identify the service line material type by October 2024. Public water systems must conduct this inventory on all service lines including the water system side and the homeowner (private) side of the meter. EWEB has always had a material type inventory of our utility side water service lines but maintaining an inventory of the private side lines is a new requirement. EWEB is closely following all guidance released by the Oregon Health Authority and we are working diligently to complete our Service Line Inventory.
For more information on the revisions please visit Oregon Health Authority or contact EWEB's Water Quality Hotline at (541) 685-7861.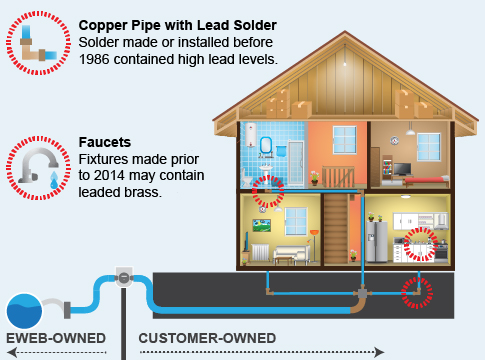 How lead could get into your drinking water
EWEB is responsible for providing high quality drinking water to your meter, but cannot control the variety of materials used in plumbing components once water passes through the water meter and enters private property.
EWEB owned service lines

We have reviewed our documentation and performed onsite pipe assessments, there are no known lead service lines in our distribution system.
Customer owned household plumbing

The main source of lead in our community's tap water is old household plumbing. Household plumbing is the homeowner's portion of the service line which runs from the meter to your house and the type of internal plumbing and faucets used inside your home. Lead solder was often used in homes built or plumbed with copper pipes before 1986. Lead is also common in brass faucets and fixtures installed before 2014.
How to keep lead out of your drinking water
Boiling water will not reduce or remove lead from water. Here are a few tips to reduce lead exposure from your tap water:
Flush your pipes.
Before drinking or cooking, let your water run until it becomes as cold as possible and reaches a steady temperature. If the water has undergone recent use such as showering or running the dishwasher this could take as little as 30 seconds. If the water has been sitting for six hours or more it could take several minutes.
Use only cold water to drink, cook and make baby formula.
Hot water makes it easier for lead to leach from your pipes into the drinking water.
Your faucet aerator can trap particles that contain lead.
Clean your aerator every few months to remove any particles.
Consider buying low-lead fixtures.
As of January 4, 2014, all pipes, fittings and fixtures must contain less than 0.25 percent lead. Learn how to identify lead free products.
Consider using a water filter.
Contact National Sanitation Foundation International at 1-800-673-8010 or visit the website for information about certified water filters. Follow all filter maintenance instructions to keep your water safe.
What to do if you are concerned about lead in your drinking water
You can have your tap water tested for the presence of lead. Click here for a list of certified laboratories.
You can verify the type of piping that you have in your home. This is especially important if your home was built prior to the lead ban in 1986.
You can ask your child's doctor to have a lead blood level test done. The Centers for Disease Control and Prevention recommends that public health actions be initiated when the level of lead in a child's blood is 3.5 micrograms per deciliter (µg/dL) or more.
Where can you get additional information
You can visit:
US Environmental Protection Agency
Oregon Health Authority